Accolades for cleantech solutions out of Western Switzerland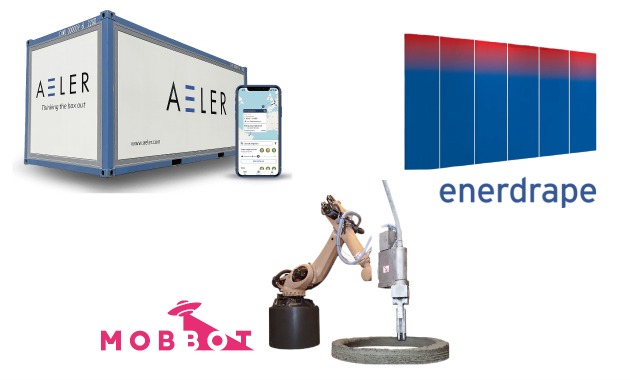 Located in Western Switzerland, cleantech start-ups Aeler, Mobbot and Enerdrape have received awards for their innovative solutions.
The cleantech sector has been growing siginificantly in recent years. Thanks to support initiatives such as CleantechAlps, start-ups have been making vital contributions to the environment with their technologies, a number of which have already received awards for their solutions.
Among them, Aeler entered the Extreme Tech Challenge Switzerland global competition, for which the Vaud-based start-up was crowned a global winner in the "mobility" category. Aeler develops smart shipping containers that drastically reduce operational costs and CO2 emissions by 20%, and unveiled its first next-generation and certified smart container to customers in 2021.
An automated robotic arm to print concrete
Recognized by the Swisscom IoT Climate Award for its outstanding achievements in climate protection, Fribourg-based Mobbot's technology to print concrete is poised to profoundly change the urban underground construction industry and drastically improve productivity at construction sites for new electricity, telecom, and water lines.
Mobbot's automated robotic arm can print up to 1.5 tons of concrete into tailor-made elements in 15 minutes. The start-up has already delivered concrete chambers with non-standard designs up to 30 times faster and 40% cheaper while reducing material waste and CO2 emissions up to 30%.
Transforming the natural heat of car parks, tunnels and cellars into renewable energy
EPFL start-up Enerdrape designed the world's first underground thermal panels that exploit the natural heat of car parks, tunnels and cellars and transform them into renewable energy sources for the heating and cooling needs of buildings. This solution can provide up to 60% of a building's heat. The Prix Start-Up Durable 2022 award, organized by Swiss newspaper "Le Temps", recognized Enerdrape for its innovative idea awarding its media coverage as part of the prize. The start-up also won the Lausanne Region 2022 prize in the amount of CHF 50,000 on the occasion of the 20th PERL awards ceremony.