Diabetes specialist Ypsomed develops world's first zero carbon emission autoinjector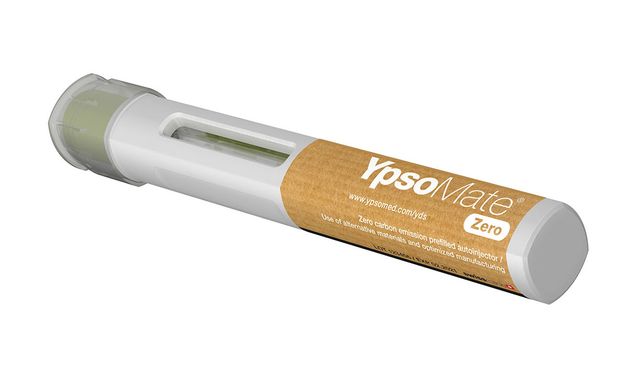 Ypsomed has developed the world's first zero carbon emission prefilled autoinjector. The new YpsoMate Zero uses alternative biopolymers and a novel packaging design that follows the principles of circular product design. Self-medication of drugs makes everyday life easier for people with chronic diseases. Easy-to-use self-injection systems such as Ypsomed's YpsoMate autoinjector for pre-filled syringes have […]
Ypsomed has developed the world's first zero carbon emission prefilled autoinjector. The new YpsoMate Zero uses alternative biopolymers and a novel packaging design that follows the principles of circular product design.
Self-medication of drugs makes everyday life easier for people with chronic diseases. Easy-to-use self-injection systems such as Ypsomed's YpsoMate autoinjector for pre-filled syringes have contributed to shifting the point of care from a healthcare setting to the home.
At-home treatment of chronic diseases improves access to healthcare and lowers overall costs. It also helps to minimize the environmental impact by reducing the need for travel or the use of hospital infrastructure and resources.
However, its single-use nature has put the pre-filled autoinjector at the forefront of the global plastic challenge. As a result, Ypsomed has developed the YpsoMate Zero, an environment-friendly device which uses alternative materials and implements improvements along the supply chain without compromising on usability and patient safety.
Zero carbon emissions by 2030
"We must take responsibility for the environmental effects of our products. This is why we develop injection devices that minimize the impact of self-medication on the environment," explains Ypsomed's CEO Simon Michel on the vision of injection devices with zero carbon footprint.
Sustainability is one of Ypsomed's strategic pillars. The company, which is headquartered in Burgdorf in the canton of Bern,  is determined to achieve net zero carbon emissions by 2030. The YpsoMate Zero is the first step towards the goal of self-care solutions with zero impact on the environment.