Neuchâtel start-up Turn2Sun breaks new ground in the repurposing of wind turbine blades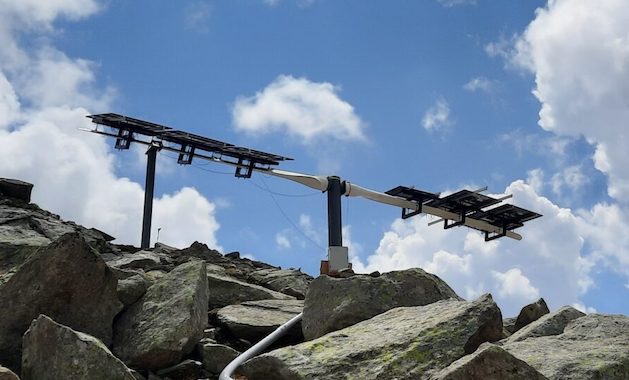 The "Blade2Sun" concept involves reusing wind turbine blades as a base for bifacial photovoltaic modules, eliminating the need for traditional metal beam mounting structures. | © Turn2Sun
Turn2Sun has launched Blade2Sun, an innovation that repurposes wind turbine blades as supports for bifacial solar panels.
Turn2Sun, a start-up based in the canton of Neuchâtel, has unveiled a world-first innovation called "Blade2Sun. This is a solar solution for reusing wind turbine blades as supports for bifacial solar panels instead of traditional metal beams.
With over 300,000 wind turbines installed worldwide, the question of the end-of-life of these structures is of growing concern. This is particularly true of the blades, which are mainly made from composite materials, and for which reuse solutions are rare. This is where Turn2Sun's innovation comes in.
Blade2Sun takes advantage of the strength properties of the used blades to support a metal structure that accommodates bifacial solar panels. A pilot installation was carried out in Grisons, at an altitude of 2,500 m, in partnership with Armasuisse, and the tests confirmed the feasibility of such a solar installation, even in extreme conditions.
Lionel Perret, Co-Founder of Turn2Sun, commented: "Several global players are interested in our solution. We're developing partnerships to be able to offer the solution in other countries, also integrating larger wind turbine blades." This invention represents a genuine upcycling solution, giving new value to an end-of-life blade for a new cycle of several decades.
Raymond Voillat, CEO of Turn2Sun, added: "We have received several messages of interest from major economic players and are starting discussions." Potential applications are vast: on a parking lot, above a water reservoir, an agricultural field and even above infrastructures such as railroads or roads.
Meanwhile, the start-up is working with Armasuisse Immobilier on a project to couple wind and solar power, by installing the solar device at the base of a working wind turbine. This would enable a stable energy supply all year round.
Founded in 2022, Turn2Sun continues to innovate in the field of solar energy with its bifacial solar technology that minimizes impact on the ground and uses a maximum of sustainable materials. Its new Blade2Sun innovation is attracting worldwide interest and is further proof of the canton of Neuchâtel's commitment to solar energy, joining other innovative solar projects previously launched in the canton by VARO Energy Group, Groupe E and Sun-Ways.