Seven initiatives for renewable energy in Western Switzerland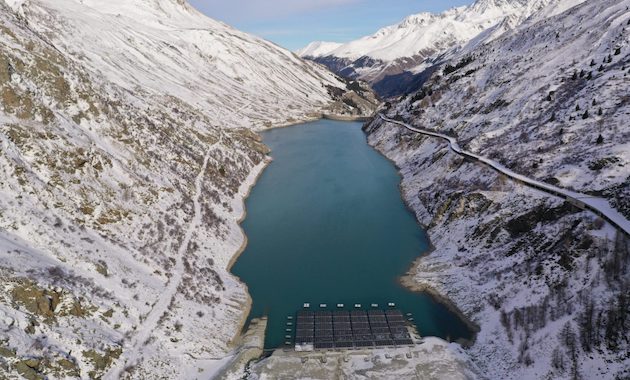 Clean energy for a changing world: this is the mission statement of many institutions and initiatives in Western Switzerland, which started to address the challenges of energy efficiency and climate change long ago.
In 2020, renewable energies accounted for about 76% of final electricity consumption in Switzerland (75% in 2019), with hydropower representing 66% and photovoltaics, wind power, small hydro and biomass about 10.3%.
With very little traditional energy resources, Switzerland is a pioneer in many areas of renewable energy and is constantly innovating in this field. Numerous sustainability initiatives, from private or public institutes, allow to face the current energy issues that exist in Western Switzerland. Here are 7 of them that you may not have known about.
Floating solar park on Lac des Toules
Since December 2019, the Lac des Toules, located in Bourg-Saint-Pierre in Valais, has been home to the world's first solar and floating park in the Alps. These are 36 floating structures supporting photovoltaic panels that have been installed by Romande Energie with the aim of using the dams to produce more electricity. A prolific project since the yield in altitude is up to 50% higher than that of a park on the plain.
GeniLac
Developed by the Services industriels de Genève, GeniLac is the largest hydrothermal network ever built in Geneva. The installation allows to produce heat and cold for buildings thanks to the lake water. Eventually, the project will represent a reduction in electricity equivalent to the annual consumption of 27,000 households.
Enerdrape
EPFL spin-off Enerdrape has designed the world's first underground thermal panels that harness the natural heat of parking lots, tunnels and basements and transform it into a renewable energy source for building heating and cooling needs. The Vaud-based start-up's solution can provide up to 60% of a building's heat.
Infrascreen
Neuchâtel start-up Infrascreen is working on an ecological greenhouse solution. While greenhouses are usually heated with natural gas, Infrascreen offers thermal screens that let in sunlight and retain heat. This solution allows to reduce the heating needs and to decrease the CO2 emissions.
Joulia
Based in Biel (canton of Bern), Joulia offers a solution to recycle the energy used to produce hot water during a shower. Thanks to their shower gutter, the heat from the consumed hot water heats up the clean cold water. This system allows to recycle more than 60% of the energy, equivalent to a saving of 1000 to 2000 kWh per year for an average family.
Lutz Architectes
The building sector is one of the largest consumers of energy. The Fribourg-based architectural practice specializes in sustainable and energy-efficient architecture. In addition to the natural materials used, Lutz Architectes tends to build low-energy buildings by using passive solar energy or by using rainwater recovery systems.
Nant de Drance
Inaugurated in 2022, Nant de Drance is one of the most powerful pumped storage power plants in Europe. It is located 600 meters underground between the Emosson and Vieux Emosson lakes in the Valais Alps. With a capacity of 900 MW, it allows the turbination of large quantities of water for the production of electricity and can store up to 20 million kWh.
This list is only a non-exhaustive selection of the many sustainable projects developed in the region. Western Switzerland is home to numerous company incubators, technology parks and centers of excellence offering the latest infrastructure to support the development of innovative products and services in the field of energy and environmental technologies, such as CleantechAlps or blueFACTORY. Companies can also find world-renowned partners such as the Energy Center of the Swiss Federal Institute of Technology in Lausanne (EPFL) and the campus Energypolis in Sion.
Thanks to all these initiatives, Western Switzerland has positioned itself as a major hub for sustainable innovation and an ideal location for the development of technologies related to renewable energy.