Switzerland's excellence in global rankings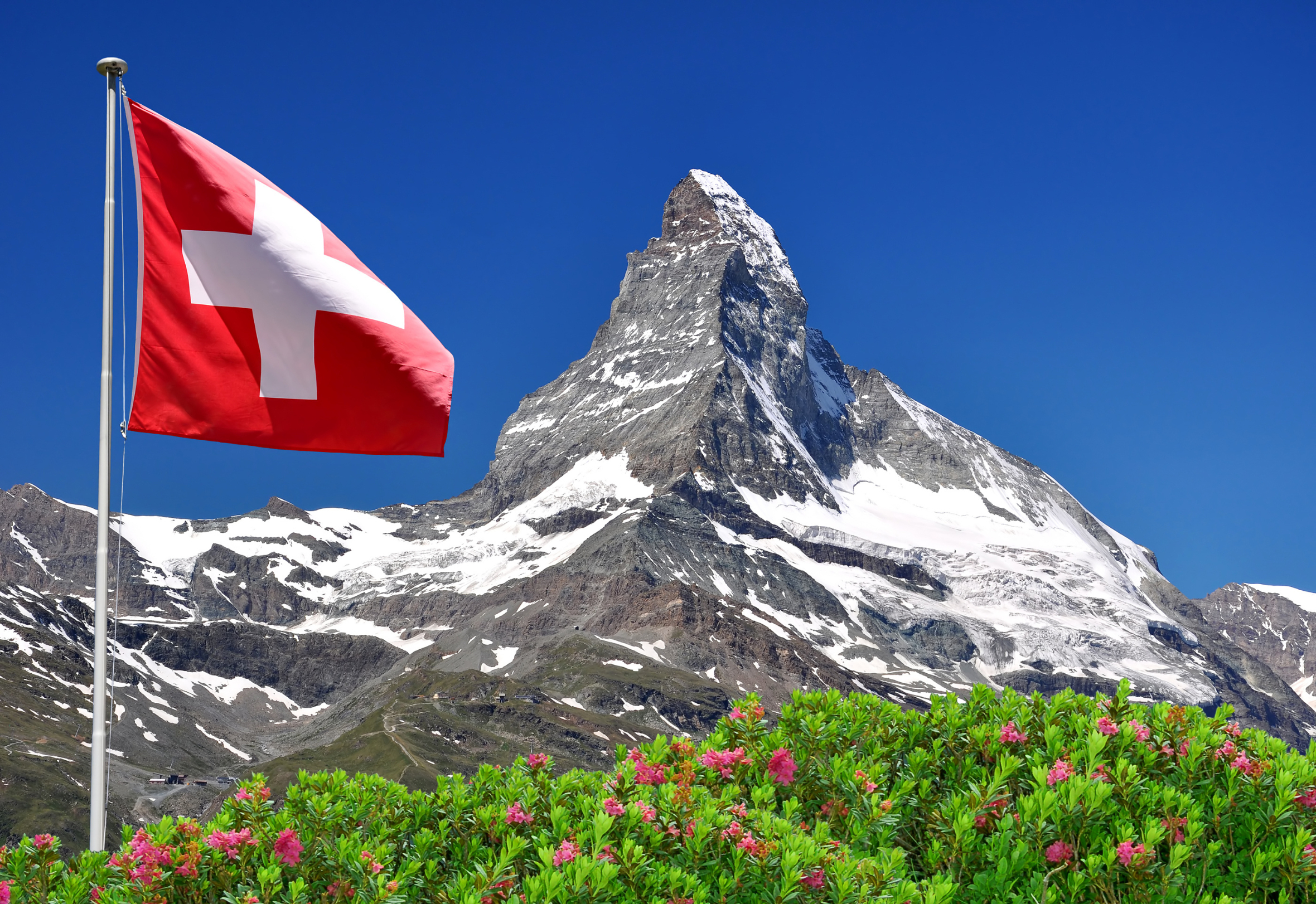 Every year, international rankings provide statistical affirmation of Switzerland's world-class standing.
From its unparalleled innovative capacities to the allure of its top-notch educational institutions, Switzerland consistently claims the top spots in many global metrics.
Year after year, Switzerland's top-tier status is reaffirmed by international rankings. The determination of other nations to claim the pole position in areas spanning innovation, business, education, and quality of life is intense. Yet, time and again, Switzerland has proven its mettle, standing tall amidst the global competition.
Various acclaimed institutions, including INSEAD, WIPO, IMD, and the WEF, have bestowed top honors upon Switzerland in their reports, reflecting the nation's unmatched excellence across diverse domains.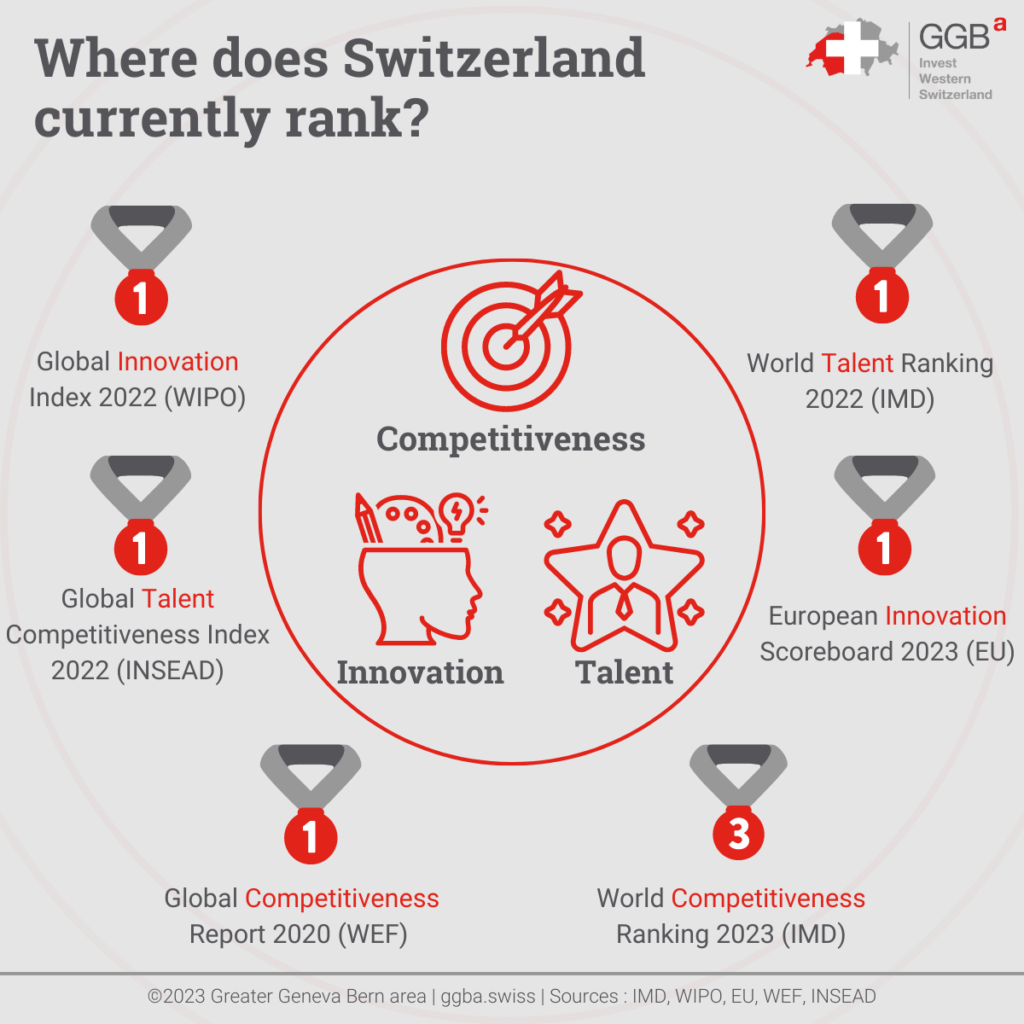 Excellence in competitiveness
Switzerland's stature as an economic powerhouse is not just an outcome of its innovation or quality of life but is deeply rooted in its overall competitiveness. The IMD's World Competitiveness Ranking for 2023 stands as a testament to this prowess. This esteemed report critically evaluates nations based on economic performance, infrastructure, government efficiency, and business efficacy. In it, Switzerland's sterling performance emphasizes its robust economic policies, efficient governance, and a conducive business environment that collectively propel it to the top echelons of global competitiveness. As the IMD report suggests, Switzerland doesn't merely participate in the global economic race, it sets the pace.
Excellence in talent acquisition
INSEAD's Global Talent Competitiveness Index of 2022 singled out Switzerland for its exceptional prowess in nurturing, attracting, and retaining global talent. This recognition is a direct reflection of Switzerland's exemplary educational system, dynamic business ethos, and steadfast commitment to innovation. Furthermore, Switzerland's top rank in the World Talent Ranking 2022 by IMD speaks volumes about its strategic approach to talent development and acquisition.
Excellence in innovation
On the innovation front, both the Global Innovation Index 2022 by WIPO and the European Innovation Scoreboard 2023 have positioned Switzerland at the top spot. These rankings are a testament to Switzerland's relentless dedication to research and development, cementing its reputation as a global innovation hub. The European Innovation Scoreboard's analysis further emphasizes Switzerland's robust research institutions, effective industry-academia collaboration, and supportive innovation frameworks.
Excellence in education
Educational institutions in Switzerland are celebrated worldwide for setting benchmarks in research, innovation, and academic excellence. As underscored by the IMD World Talent Ranking 2022, the European Innovation Scoreboard 2023, and the QS World University Rankings, Switzerland's dedication to educational excellence is evident. Renowned institutions like EPFL, the EHL Hospitality Business School and the University of Geneva continually receive accolades from these reports for their contributions to global research and their unmatched academic programs. INSEAD's Global Talent Competitiveness Index further emphasizes Switzerland's emphasis on holistic education, equipping students with both theoretical insights and practical proficiencies.
Excellence in quality of life
The exceptional quality of life in Switzerland isn't just a local sentiment; it's a globally acknowledged fact. The WEF's latest Global Competitiveness Report highlighted Switzerland's impressive mix of infrastructural sophistication, commitment to environmental stewardship, and overall citizen wellbeing. With its breathtaking landscapes and proactive emphasis on the holistic welfare of its inhabitants, Switzerland remains a beacon of prosperity and sustainable development.
Excellence in economic resilience and entrepreneurial spirit
The nation's economic sturdiness and innovative mindset are other domains where Switzerland shines brightly. Reports like the Global Resilience Index vouch for Switzerland's resilient economic fabric, while the IMD's Competitiveness rankings and the WEF's Global Competitiveness Report consistently spotlight its position among the global economic elites. These recognitions highlight Switzerland's astute economic strategies, formidable infrastructure, and a business milieu that's always a step ahead.
Global excellence
Both the WEF's Global Competitiveness Report and the OECD's Economic Surveys provide invaluable insights into the intricacies of global economic trends and performances. The Global Competitiveness Report offers a panoramic view of the long-term dynamics shaping the global economic landscape, highlighting Switzerland's outstanding achievements across facets like infrastructure, macroeconomics, and innovative capacities.
On the other hand, the OECD's Economic Surveys, with their rigorous country-specific analyses, consistently underscore Switzerland's economic resilience, policy effectiveness, and adaptability to global shifts. Together, these comprehensive assessments further solidify Switzerland's reputation for all-round excellence on the global stage.
As these prestigious reports and rankings attest, Switzerland continues to shine brightly in a multitude of areas, from talent and innovation to the broader business environment. Its consistent performance is a testament to its enduring appeal as a global leader. As the world continues to evolve, Switzerland's commitment to excellence ensures its place at the forefront of global competitiveness and innovation.