The EPFL introduces the new version of its TWIICE exoskeleton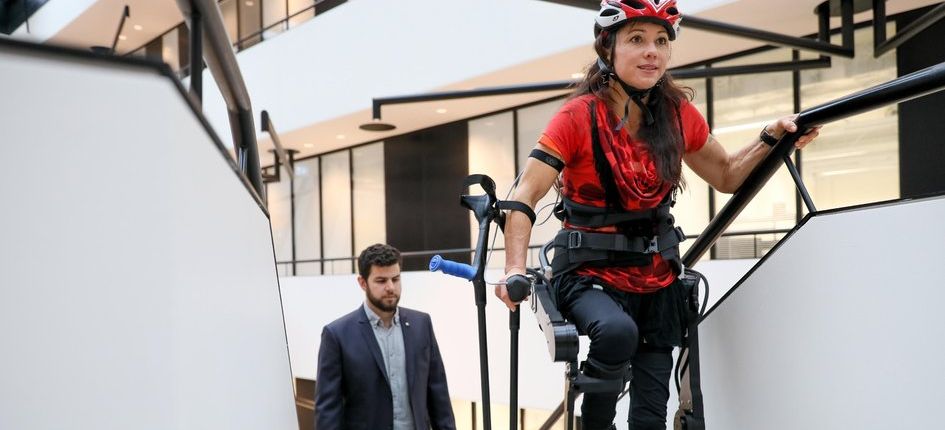 After two years of development, the EPFL has presented a new version of its TWIICE exoskeleton. This new version is lighter, more powerful and can be operated without any assistance. Since 2016 and with the participation of paraplegic Swiss athlete Silke Pan, researchers from the EPFL's Laboratoire de Systèmes Robotiques (LSRO) have developed the TWIICE […]
After two years of development, the EPFL has presented a new version of its TWIICE exoskeleton. This new version is lighter, more powerful and can be operated without any assistance.
Since 2016 and with the participation of paraplegic Swiss athlete Silke Pan, researchers from the EPFL's Laboratoire de Systèmes Robotiques (LSRO) have developed the TWIICE lower-limb exoskeleton. The team has created a robotic structure that can fully support the weight of a human body and guide the person's steps.
TWIICE One has two electric motors on each leg that enable patients to move their hip and knee joints. The new design integrates actuators in the structure, making it less cumbersome and easier to manipulate. A control device in one of the crutches allows patients to choose among three walking speeds and go up and down stairs.
Two industrials partners on the project
The LSRO team has worked in collaboration with two Vaud-based industrial partners on the TWIICE project. The Sonceboz Innovation Cell has developed powerful yet ultra-compact actuators for moving the exoskeleton, and Fischer Connectors has manufactured the high-performance connectors. "This project is particularly important to us because it can improve people's day-to-day lives. It also shows how we are able to conceive new applications for connectors and develop systems jointly with our customers that can enhance the quality of life of thousands of individuals", explains Jonathan Brossard, CEO of Fischer Connectors.