The GGBa receives an award for excellence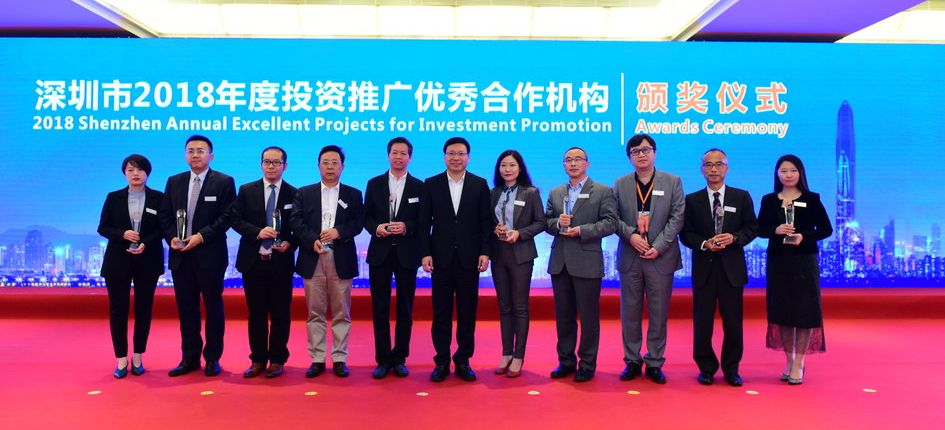 On the occasion of the awards ceremony of the 2018 Shenzhen Annual Excellent Projects for Investment Promotion, the GGBa was awarded for being an excellent cooperative partner for the investment promotion. On 7 December 2018, Shenzhen Invest held the signing ceremony for major investment promotion projects of the year of 2018 at the Shenzhen Civil […]
On the occasion of the awards ceremony of the 2018 Shenzhen Annual Excellent Projects for Investment Promotion, the GGBa was awarded for being an excellent cooperative partner for the investment promotion.
On 7 December 2018, Shenzhen Invest held the signing ceremony for major investment promotion projects of the year of 2018 at the Shenzhen Civil Center. There were 33 contracts signed important projects from sectors such as the Internet, next-generation information technology, advanced manufacturing, cultural innovation, finance, biology and life sciences as well as aerospace. Two industrial parks were respectively honored as industrial chain park/international key park, and 10 companies were selected as excellent investment promotion projects.
The GGBa and nine other institutions were awarded for being excellent cooperative partners for the investment promotion of Shenzhen in 2018. Mr. Chen Rugui, the mayor of Shenzhen, attended the ceremony and presented the awards to the companies, institutions and industrial parks.
Other Shenzhen officials and representatives from Fortune Global 500, China's top 500 companies, industrial leaders, higher education institutions and R&D institutions attended the ceremony as well.