Aero41 develops a drone for the protection of crops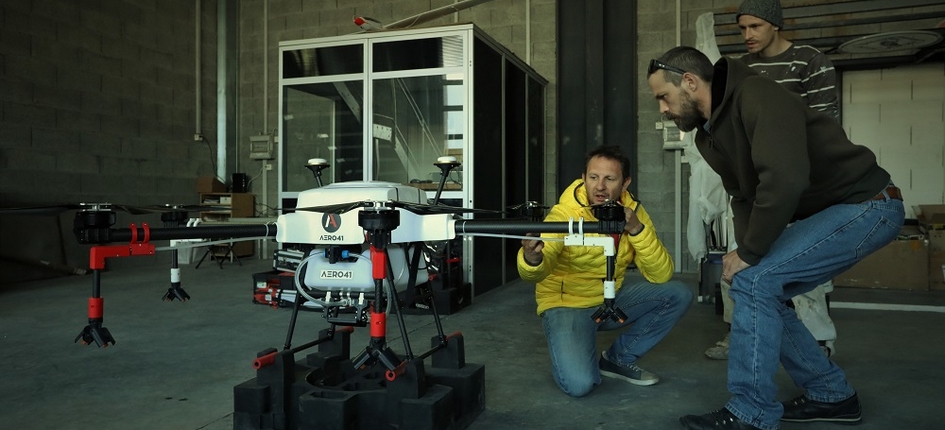 Located in the canton of Vaud, halfway between the Valais and Vaud vineyards, close to the technological hubs at the forefront of robotics and IT technology of the future, Aero41 is a new structure created to develop drone-based crop protection in Switzerland. For the past several seasons, drones dedicated to crop protection have progressively found […]
Located in the canton of Vaud, halfway between the Valais and Vaud vineyards, close to the technological hubs at the forefront of robotics and IT technology of the future, Aero41 is a new structure created to develop drone-based crop protection in Switzerland.
For the past several seasons, drones dedicated to crop protection have progressively found their place among vineyard professionals after having demonstrated their usefulness. The start-up Aero41, strategically located in Aigle, between the vineyards of the cantons of Vaud and Valais, aims to meet the regulatory and ecological requirements of winegrowers and farmers.
The start-up is located near the Universities of Applied Sciences, also valuable partners, located both in the cantons of Vaud and Valais, thereby combining all the essential know-how to become the leading player in the field of spreading solutions for the wine sector and more broadly for agriculture.
As part of its expansion objective, the company has an industrial and commercial partner of international scope, the French group Delta Drone. Aero41 also announces that new capital is being raised in order to pursue its R&D program and expand its offer to several markets.
At the heart of the Drone Valley
It is no coincidence that Aero41 has chosen Western Switzerland to start its drone activity. The region is a pioneer in UAV traffic management, thanks to the support of the Federal Office of Civil Aviation, UAV-friendly regulations and the possibility of testing drones anywhere in Switzerland. The region also benefits from cutting-edge training and research institutes, such as the CSEM in Neuchâtel for robotics and microsystems, and the EFPL in Lausanne for all matters related to engineering and technology. Aero41 now joins the more than 80 companies that have already chosen Western Switzerland to develop their drone activities.