Bearmind earns top honors at PERL Awards for its brain injury prevention technology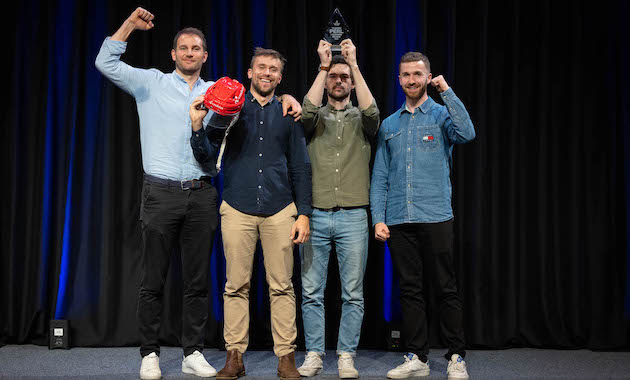 Bearmind, the Lausanne-based start-up committed to preventing brain injuries in high-impact sports, has been awarded the prestigious Lausanne Region Trophy (Trophée Lausanne Région) at the PERL Awards 2023.
Bearmind's innovative solution, a helmet-integrated sensor system that anticipates risks of brain injuries, granted them the Lausanne Region Trophy and an accompanying CHF 50,000 prize. Founded by Mathieu Falbriard, Tom Bertrand, Michael Blackburn, and Pierre Coieffey, Bearmind continues to create waves in sports safety and technology sectors. Their device, primarily designed for sports like hockey, provides medical teams with essential data to prevent chronic traumatic encephalopathy, a degenerative brain disease linked to repeated head impacts.
The PERL Awards, a staple of Lausanne's support for homegrown innovative enterprises, has launched and highlighted over 90 entrepreneurial projects since its inception in 2003. This year's edition saw 37 applications, with a jury composed of notable figures from the academic and economic sectors deciding the winners.
Apart from Bearmind, four other companies were recognized for their innovative contributions. Wepot, Medusoil, Readily3D and Solaxer each won the Innovation Award and a CHF 10,000 prize. Wepot, the Jury's Heart Stroke Prize recipient, was also awarded the Public Prize, an additional CHF 10,000, determined by an online vote via LinkedIn and Facebook.
Wepot's sustainable irrigation solution, the porous clay pots known as "ollas," reduces water waste in traditional watering methods. Medusoil's bio-stabilization solution offers an eco-friendly and less energy-intensive soil reinforcement technique, while Readily3D's bio-printed tissue models facilitate animal-free drug testing. Solaxer, on the other hand, has developed innovative solar heat receptors, reducing production and maintenance costs while enhancing energy performance.
The diversity and inventiveness of the rewarded companies at the PERL Awards 2023 highlight the vibrancy of the Lausanne region's economic fabric. As the city continues to foster entrepreneurship, start-ups like Bearmind continue to create transformative solutions that prioritize safety and well-being.