Bern's journey to becoming a world-class medtech hub by 2030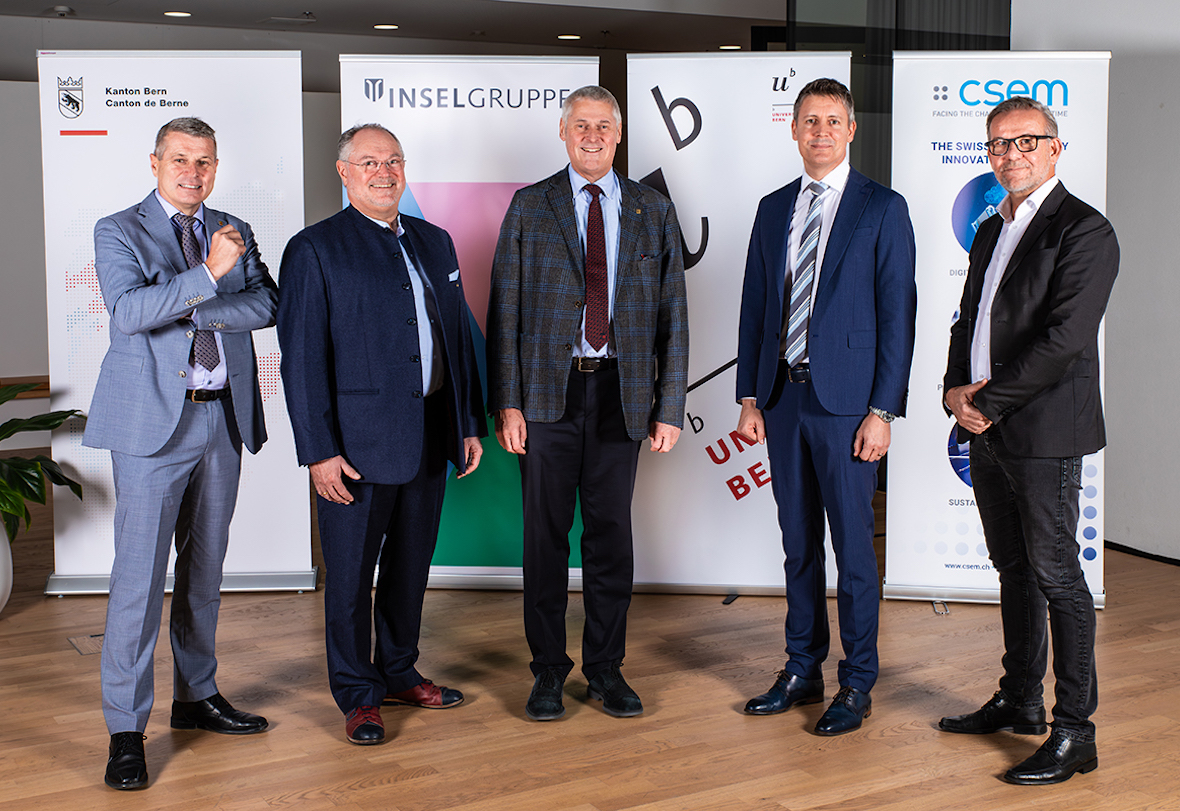 From left to right: Christoph Ammann, Canton of Bern – Dr. med. h.c. Uwe E. Jocham, Insel Gruppe – Prof. Dr. Christian Leumann, University of Bern – Dr. Alexandre Pauchard, CSEM, Jens Krauss, CSEM. | © CSEM
The canton of Bern is on a mission to become a leading global medical hub by 2030. By combining an exceptional medical expertise, Bern aims to enhance the competitiveness of local industries and start-ups through joint research and development projects.
Since the Bernese Great Council's decision on 13 June 2023 to establish a division of the CSEM technology innovation center, medical and clinical research on the Insel campus has been vigorously pursued. Ten new collaborative projects with various university hospitals and the University of Bern have been initiated. These ventures span from gynecology, neurology, and diabetology to endocrinology, nutritional medicine, and metabolism, and now include new collaborations in pulmonology, cardiology, and surgery. The common goal is to simplify patient care and monitoring through new measurement technologies and to assist physicians in diagnostics and therapy optimization with artificial intelligence and algorithms.
At a media briefing in Bern, representatives from CSEM, the canton of Bern, the Inselspital, Bern's University Hospital, and the University of Bern presented concrete examples of their current and future collaboration. They confirmed significant interest in the partnership from almost all medical departments of the Insel Group, many academic researchers, and various startups.
Patients can look forward to innovations such as a chest strap developed with the Inselspital's University Clinic for Pneumology, which could simplify the investigation and treatment of lung diseases. This could mean less frequent visits to the pulmonary function lab for patients. Other examples include the University Clinic for Cardiology's evaluation of alternative methods to conventional adhesive electrodes for arrhythmias and the University Clinic for Diabetology, Endocrinology, and Metabolism's investigation into whether changes in voice can measure hypoglycemia.
Innovative solutions poised to transform patient care
Looking ahead to 2024, researchers from the University of Bern and Inselspital have submitted new project ideas for the upcoming year. A panel of 22 medical and technical specialists will decide by the end of November how the annual CHF 2 million in research funds will be allocated. A total of 29 projects from nearly all medical disciplines have been submitted, demonstrating a strong interest in digital hospital solutions and highlighting the potential at the intersection of medicine and engineering.
To facilitate collaboration among teams, CSEM has established office and meeting spaces on the Insel campus, including within the Sitem Start-up Club (SSC). 20 employees have already moved into the new facilities, with the CSEM "Medtech" division expected to employ approximately 65 experts and specialists by 2026, including 43 in Bern.
The Bernese medtech ecosystem is already bearing fruit, with several successful projects emerging from the collaboration between Bern's prominent actors and CSEM. For example, the 2019-founded start-up machineMD in Bern, a spin-off from Inselspital and the University of Bern, utilizes virtual reality glasses for comprehensive neuro-ophthalmological examinations to improve the diagnosis and monitoring of neurological diseases. The development involved CSEM as well as specialists from the Bern University of Applied Sciences and the Helbling Group, demonstrating the potential of Western Switzerland's innovation landscape when various players collaborate effectively.
Existing collaborations serve as a catalyst for further achievements, with recent partnerships in gynecology, neurology, and diabetology resulting in tangible outcomes. Innovations such as a lightweight, wearable electrode belly band for monitoring pregnant women and their babies, continuous day and night monitoring systems for epilepsy patients, and smartphone voice recording for diabetes patient care are at the forefront of the intersection between "Microelectronics & Prototyping" and "Medical & Clinical Research."