BFH-TI: innovative education tailored to industry expectations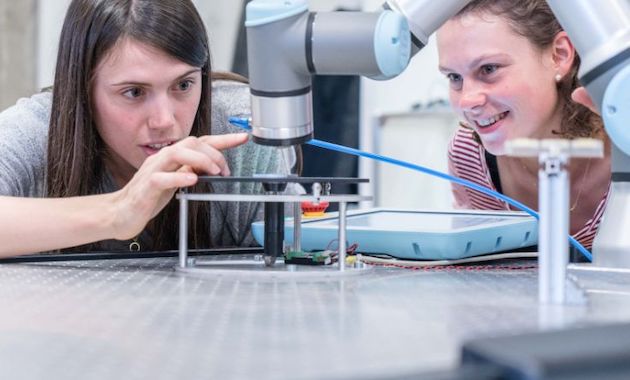 Providing a practical, interdisciplinary, and internationally focused education, BFH-TI prepares its students to tackle the challenges of ambitious and rewarding careers across various fields of expertise.
The School of Engineering and Computer Science of the Bern University of Applied Sciences (BFH-TI) plays a vital role in strengthening the education ecosystem of the canton of Bern. Through its innovative and practice-oriented teaching programs, BFH-TI trains a highly skilled workforce that meets the expectations of the industry. In close collaboration with industry partners and public institutions, BFH-TI fosters innovation, applied research, and skills development, contributing to the economic vitality and competitiveness of the canton of Bern.
Education programs
Bachelor's degree programs are practice-oriented and tailored to the needs of the economic environment. Among the offered bachelor's degrees are automotive and vehicle engineering, electrical engineering and information technology, computer science, data engineering, mechanics, medical informatics, mechatronics and system engineering, and management engineering.
Master's degrees pave the way for challenging positions in research, production, consulting, or public institutions. Offered programs include a master's in biomedical engineering, a master's in engineering, and a master's in precision engineering.
Continuing education
BFH-TI offers continuing education at the master's level, focusing on management, innovation, digital transition, information technology, data science, cybersecurity, digital forensics, and digital health. Part-time study programs lead to degrees such as EMBA General Management, EMBA Innovation, MAS Cyber Security, MAS Data Science, MAS Digital Forensics, MAS Digital Health, MAS Digital Transformation, and MAS Information.
Research institutes and centers of expertise
Nine institutes and three centers at BFH-TI conduct applied research, ensuring close collaboration with the industry. New technologies and expertise from research projects and industrial projects are transferred to the industry for the development of new products and processes. Among these institutes and centers are the Institute for Applied Laser, Photonics and Surface Technologies (ALPS), the Institute for Cybersecurity and Engineering (ICE), the Institute for Data Applications and Security (IDAS), the Printing Technology Institute (IDT), the Institute for Energy and Mobility Research (IEM), the Institute for Human Centered Engineering (HuCE), the Institute of Intelligent Industrial Systems (I3S), the Medical Informatics Institute (I4MI), and the Institute for Optimization and Data Analysis (IODA).
An innovative and industry-oriented approach
BFH-TI offers innovative and practical training as well as fruitful partnerships with businesses, allowing students to prepare for demanding and challenging careers in various fields.
Its practice-oriented pedagogical approach allows students to acquire skills directly applicable in the professional world. Partnerships with local and international businesses also provide opportunities for internships, final projects, and collaborations in applied research, strengthening the connection between academic training and the industrial world.
Graduates of BFH-TI are well-prepared to face the challenges of a constantly evolving professional environment and actively contribute to innovation and the development of new technologies. Thanks to the quality of its education, partnerships with businesses, and research successes, the Technical and Computer Science Department of BFH continues to be a key player in training future professionals and leaders in technology and engineering fields.
Learn more about the School of Engineering and Computer Science of the Bern University of Applied Sciences (BFH-TI)