ClearSpace raises EUR 26.7 million to clean up outer space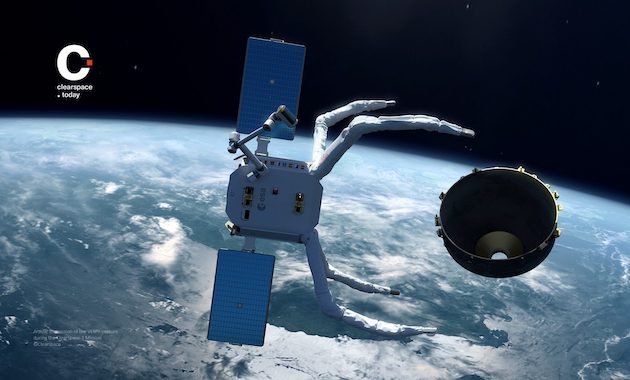 ClearSpace, the leading company in in-orbit servicing and active space debris removal, has successfully completed a financing round of EUR 26.7 million to drive the sustainable use of space.
ClearSpace, an In-Orbit Services (IOS) company created in 2018, intends to revolutionize how space missions are conducted. The start-up based in Lausanne (canton of Vaud) is creating technologies that will support a wide range of IOS applications, from disposal and in-orbit transport to mission extension, assembly, manufacturing, repair, and recycling.
ClearSpace aims to support institutions and commercial operators alike to improve sustainable space operations and promote a circular space economy. In 2020, the company was awarded a service contract by ESA to develop ClearSpace-1, using state-of-the-art technology and advanced on-orbit techniques to demonstrate the feasibility of removing debris from orbit.
The new EUR 26.7 million financing round brings together a global team of venture capital investors led by OTB Ventures, with support from the European Investment Fund under the InvestEU programme, and Swisscom Ventures, with participation from the Luxembourg Future Fund, Lakestar, In-Q-Tel, Happiness Capital and 600 T Space Investments.
A deeptech landmark to make space operations sustainable
The global space market is booming, driven by strategic and commercial interest from governments, technology innovations opening up new markets for the private sector, and reduced satellite launch costs. Citigroup predicts that the space industry should reach USD 1 trillion in annual revenue by 2040.
Adam Niewiński, GP & Co-Founder at OTB Ventures, said: "Funding new science and technology developments is crucial to growing the space sector and catalyzing further investment into the economy. Private investment in space companies, especially from venture capital, has steadily broken annual records over the past decade. With the backing from our limited partners, which include the European Investment Fund (EIF), we look to invest in leaders of the new space sector, that will dominate the next phase of space operations. Tens of thousands of artificial objects are tracked in orbit around the Earth, with many times that expected to be in orbit but are too small to be tracked. ClearSpace is developing key technologies for satellite proximity and rendezvous operations in space, which is essential for the sustainable future of space."
Clearspace recently announced a satellite life-extension collaboration with satcom operator Intelsat, building upon the technology being developed under the EUR 110 million space debris removal mission, ClearSpace-1, secured from the European Space Agency (ESA) in 2020. ClearSpace-1, will be the first of numerous missions ClearSpace is planning for both low-Earth and geostationary orbits.