CSEM will help develop 3D-printed pipes for CERN particle detectors and the International Space Station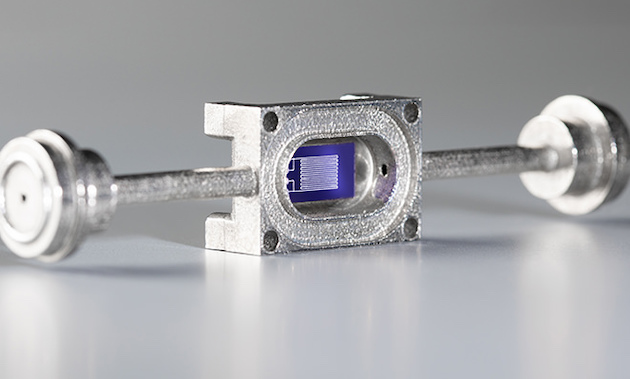 CSEM is coordinating a high-profile EU-funded project to enhance the performance of thermal control systems by developing 3D-printed pipes with embedded sensors.
The project, called Advanced Heat Exchange Devices (AHEAD), aims to revolutionize thermal control systems – critical components of a number of high-performance devices like satellites and space rockets. Most thermal control systems in use today are heavy, bulky and require a myriad of connection cables. With AHEAD, the goal is to develop systems that are compact, less expensive and wireless, allowing for real-time data collection and improved efficiency.
The project consortium, which consists of six partner organizations, intends to develop a new kind of 3D-printed pipes with temperature sensors and heating elements embedded in the pipe's inner surface. The system will also include an energy recovery device to power the embedded electronics and enable automatic, wireless data transfer.
"Broadly speaking, we aim to develop technology bricks that can be used to integrate electronic components like cables, connectors and sensors into many different kinds of 3D-printed objects," said Hervé Saudan, a project coordinator at CSEM. "The ability to embed sensors into process equipment will be an important feature of Industry 4.0. The data collected by these sensors can be used to feed artificial intelligence algorithms for process control, process optimization and predictive maintenance."
The consortium, of which Neuchâtel's CSEM is part of, hopes to bring its technology to the pre-industrial stage and make it suitable for a broad range of applications including industrial heating and cooling systems, irrigation mechanisms, surgical instruments and implants, machine tooling, robotics and automotive parts.
Pushing the boundaries of flow measurement and control
The two applications that the project engineers are currently targeting are space modules and the CERN's new particle detectors. Also, one of the project's key partners – Thales Alenia Space (TAS) – is studying how the sensor-equipped pipes could be employed in the International Space Station's pressurized modules and in NASA's future Lunar Gateway space station.
The AHEAD project is slated to last two years. It reflects Switzerland's prominent position in innovation and its know-how in 3D-printing technology.