Dentsply Sirona, SICPA and Flyability win the Vaud International Business Award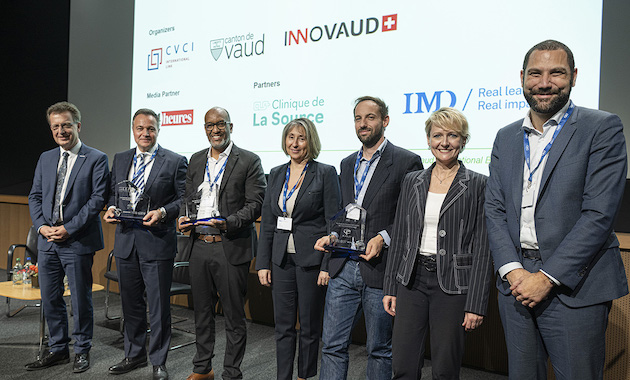 The ninth edition of the Vaud International Business Award (PVEI) has distinguished Dentstply Sirona, SICPA and Flyability.
The strength of the canton of Vaud stems largely from the diversity of its economic fabric, which has earned its reputation well beyond cantonal and national borders.
In order to reward companies that have made an exemplary contribution to the image and international influence of the canton of Vaud, the Department of the Economy, Innovation and Sport (DEIS), the Vaud Chamber of Commerce and Industry (CVCI) and Innovaud have created the Vaud International Business Award.
On the occasion of the ninth PVEI ceremony, Dentsply Sirona won in the "Foreign Company" category. Maillefer, founded in 1889 in Ballaigues, is part of Dentsply Sirona, the world's leading manufacturer of professional dental products and technologies. Present in more than 140 countries, the group employs some 18,000 people worldwide, including more than 700 in the canton.
Awarded in the "Swiss Company" category, SICPA is a family-owned technology company founded in 1927. SICPA develops hardware and digital security technologies that protect the majority of the world's banknotes. The company employs more than 3,000 people worldwide, including nearly 1,000 between Chavornay and Prilly.
Finally, the "Special Jury Prize" went to Flyability. Founded in 2014, Flyability develops indoor drones for industrial use to explore complex spaces. With about 100 customers in more than 50 countries, the company has more than 120 employees, 80 of whom are based in Paudex.
Three companies to make the canton of Vaud shine internationally
Every fall since 2014, the PVEI has celebrated three internationally active companies based in the canton of Vaud. The winners are chosen on the basis of a series of criteria, including the presence of a head office in the canton of Vaud for at least three years, a contribution to the canton's image abroad, and job creation in the region. The "Foreign company" category takes into account the local production of goods or services, economic diversification, regional subcontracting and integration. The winner of the "Swiss company" category is chosen according to criteria such as professional training, scientific collaborations or international expansion. The "Special Jury Prize" category is awarded to a company that is particularly innovative, locally committed and collaborates with other companies in the canton.