Dufour Aerospace will commercialize its "Swiss army knife" Aero2 eVTOL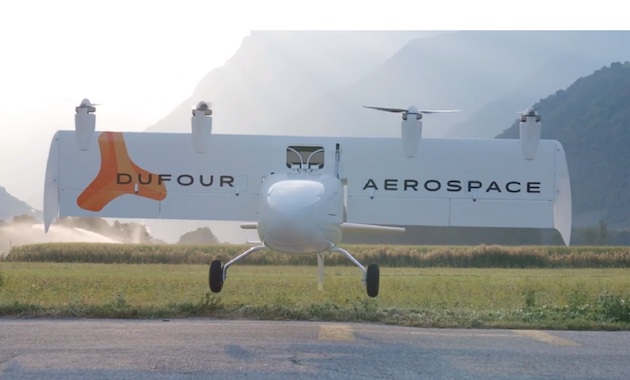 Initially intended as a technology demonstrator aircraft, the Aero2 drone developed by the Valais-based company Dufour Aerospace will be officially commercialized. A first prototype will be built by the end of 2022.
The Aero2 tilt-wing drone developed by Dufour Aerospace was initially intended to serve as a technology demonstrator. However, its performance in flight tests has led the company to officially commercialize its innovative aircraft.
Referred to as the Swiss army knife of small unmanned aircrafts, the Aero2 can carry a load of up to 40 kilos. Its maximum take-off weight is 150 kilos. The aircraft can travel at 170 km/h at cruising speed, with a maximum flight time of three hours when using a hybrid electric propulsion system, or one hour when using electricity.
Equipped with four propellers on the tilting wing, the Aero2's small size allows it to take off and land in tight places, using as little space as a conventional drone.
"This innovative small unmanned aircraft will greatly assist our customers in their operations for the transport of goods," explains Thomas Pfammatter, co-founder and CEO of Dufour Aerospace.
Commercial release planned for 2023
Commercial production of the Aero2 is expected to begin in 2023. Its engineers assure that certain features of the aircraft, including its engines/propellers, flight control unit and rudders, will meet stringent safety requirements.
As a matter of fact, the Aero2 was designed to meet the rigorous requirements for light unmanned aerial systems issued by the European Aviation Safety Agency (EASA).
The company based in Visp (canton of Valais) plans to build its first full-scale prototype next year, with flight tests scheduled for late 2022. Dufour Aerospace is also working toward the certification of the Aero3 eVTOL by the end of 2025.