Ecorobotix secures USD 52 million to propel its global expansion and innovation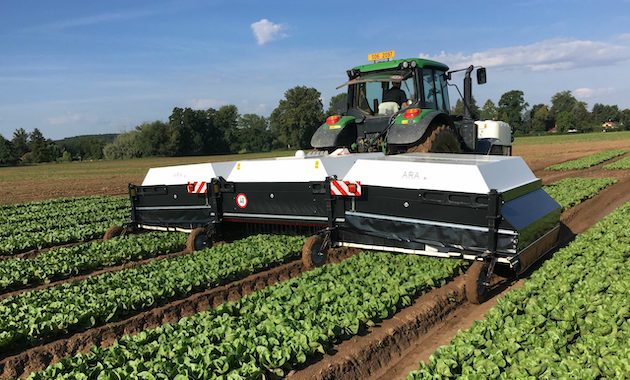 Ecorobotix, the Swiss leader in ultra-high precision farming solutions, has successfully raised USD 52 million in a recent funding round. The funding round was co-led by AQTON SE, a holding company owned entirely by Stefan Quandt, the largest single shareholder of BMW.
Ecorobotix, based in Yverdon-les-Bains (canton of Vaud), is a pioneer in AI-based ultra-high precision farming solutions. The company's flagship product, ARA, is an innovative plant protection spraying machine that leverages artificial intelligence, vision, and computer systems to detect and selectively spray weeds with a micro-dose of herbicide. Through the use of advanced machine learning algorithms and camera technology, the ARA system offers a swift return on investment, reduces overall plant protection costs by up to 40%, and boosts crop yields by 5-10%.
The funding round of CHF 52 million was jointly led by AQTON Private Equity GmbH and Cibus Capital LLP. Additional investors included Swisscanto Invest/Swisscanto Growth Fund I, Yara Growth Ventures, and Flexstone Partners, as well as existing investors such as Swisscom Ventures, BASF Venture Capital, 4FOX Ventures, and Verve Ventures.
Ecorobotix partnered with UBS Growth Advisory and Oaklins France for this financing round. The capital raise included USD 48.3 million (CHF 43.1 million) of new equity and USD 3.4 million (CHF 3 million) of new financing facilities, courtesy of the FOEN Swiss Technology Fund. This new capital will expedite Ecorobotix's market expansion, product range growth, and further the commercial success of ARA in Europe.
Stefan Quandt, owner of AQTON SE, shared his enthusiasm for investing in Ecorobotix, praising the company's positive influence on agriculture and the environment. He emphasized the critical role of ultra-high precision agriculture and solutions like ARA in enhancing farmer efficiency and propelling agriculture towards a more sustainable future.
Simon Aspinall, CEO of Ecorobotix, expressed his pride in partnering with investors who understand the environmental benefits of their ultra-high precision technology. "With these new investments, we will deliver ARA to more farmers, in more markets, radically increasing agricultural productivity while protecting the environment and reducing CO2 impact," he stated.
With this latest round of funding, Ecorobotix demonstrates its commitment to revolutionizing agriculture through technology, paving the way for a more sustainable and efficient future for farmers globally.