Numerous Western Switzerland key players to participate the first-ever space debris removal mission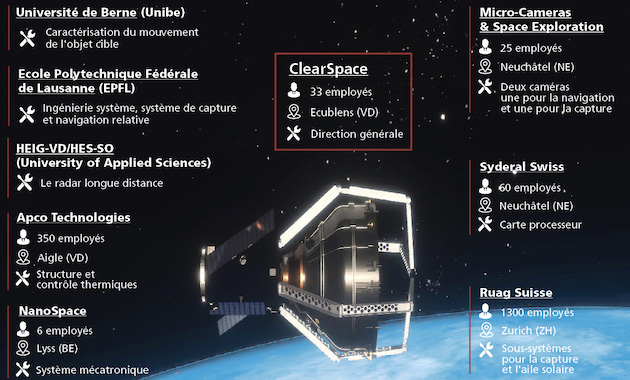 Funded by the ESA and led by Vaud-based start-up ClearSpace, the first ever space debris removal mission will involve several key players from Western Switzerland for the manufacturing of the cleaning satellite.
With a budget of EUR 100 million, including 86 million financed by the European Space Agency (ESA), the ClearSpace-1 mission will take off in 2025. Led by the Vaud-based start-up ClearSpace, this mission will require the construction of a new four-armed articulated cleaning satellite with a wingspan of one cubic meter and a weight of about 400 kilograms.
The target of the ClearSpace-1 mission is a 112-kilogram conical object located 800 kilometers from Earth. In the Canton of Bern, the Zimmerwald Observatory of the Astronomical Institute of the University of Bern will be responsible for accurately determining the target's trajectory. The observatory has already started its monitoring, which will continue until the final disintegration of the object.
In addition, the Bernese start-up NanoSpace will develop the satellite's nervous system, i.e. the electronics behind the articulation of its four arms.
In the canton of Vaud, five laboratories and a center of the EPFL are working with ClearSpace in the areas of system engineering, capture method and relative navigation. The long range radar is designed and manufactured by the University of Engineering and Management of the Canton of Vaud (HEIG-VD).
The Vaud-based company APCO Technologies, specialized in mechanical equipment for the aerospace market, will supply the composite structure of the satellite as well as the thermal control system.
In the canton of Neuchâtel, Micro-Cameras & Space Exploration (MCSE), a specialist in space imaging systems, will supply two micro-cameras that will provide essential visual assistance for navigating the satellite, particularly during the object capture operation. Syderal Swiss, another Neuchâtel-based company, will manufacture the processor board for ClearSpace-1, which will analyze the images of the target.
All in all, nearly 30% of the cleaning satellite's components will be designed in Western Switzerland, a testament to the region's dynamism in the aerospace field for a pioneering mission, the first of its kind.