Perovskia Solar and Impossible Materials triumph at the MassChallenge Switzerland Awards 2023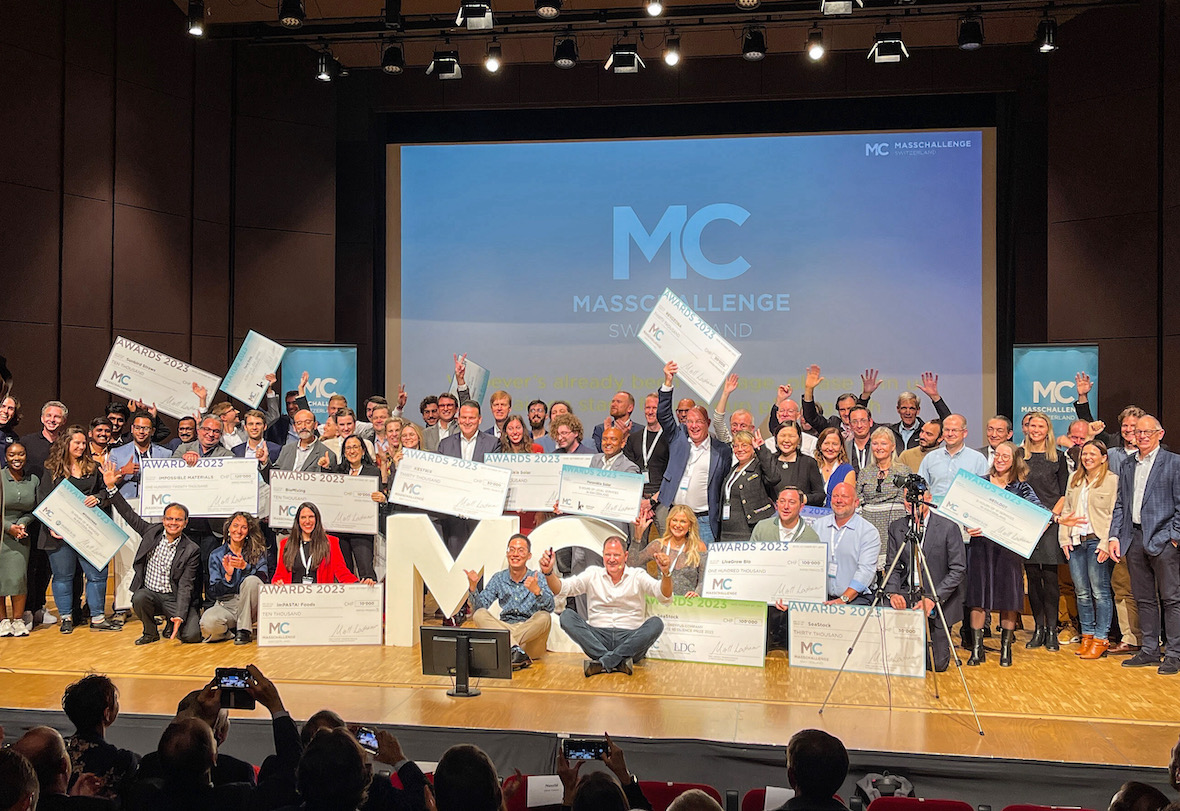 Since 2016, the MassChallenge program has been a cornerstone in accelerating over 720 start-ups, aiding them in raising more than CHF 1.2 billion in funding and generating over 50,000 jobs. | © MassChallenge Switzerland Awards 2023
Western Switzerland start-ups Impossible Materials and Perovskia Solar have earned top honors at the Mass Challenge Switzerland Awards 2023, demonstrating cutting-edge innovations that align with climate responsibility.
The MassChallenge Awards are a prestigious annual event celebrating the brightest and most innovative start-ups from the MassChallenge accelerator program. As part of MassChallenge's global commitment to strengthening the startup ecosystem, these awards recognize and financially reward startups that demonstrate exceptional promise, innovation, and potential impact in their respective industries. Over the years, the awards have gained significant attention, bringing together entrepreneurs, investors, and industry leaders, and spotlighting the transformative solutions that are shaping the future of business and society.
The 2023 edition of the Awards showcased 12 remarkable early-stage start-ups, with the spotlight shining on Western Switzerland champions Impossible Materials and Perovskia Solar. The celebratory ceremony, held at the Casino de Montbenon in Lausanne, was attended by an audience of over 400 global participants.
Based in the canton of Fribourg, Impossible Materials garnered the highest accolade, winning the Diamond Prize and CHF 120,000. This deeptech venture transforms cellulose into functional ingredients, offering businesses sustainable and safe product formulations. Aiming to advance the circular economy, their pioneering product, a cellulose white pigment, stands as testament to their commitment to sustainable innovation. The company had previously secured a significant CHF 3.4 million in seed funding, underscoring its rising trajectory in the sustainable tech space.
Vaud-based Perovskia Solar was awarded one of the Gold Prizes, securing CHF 30,000. Revolutionizing the solar sector, this cleantech start-up offers digitally printed, customizable solar cells to OEMs. Their aim? To render everyday devices energy self-sufficient, furthering the global transition towards renewable energy.
Matt Lashmar, Managing Director of MassChallenge Switzerland, emphasized the unparalleled support and collaboration that has been the backbone of this acceleration program: "I would like to thank our experts and partners for generously giving their time and expertise to help our start-ups advance their projects." Highlighting this year's extraordinary performance, Lashmar added: "This help is reflected in the record result this year, with 58% of start-ups exceeding their ingoing accelerator objective."
Driving climate responsibility in the entrepreneurial sphere
Additionally, this year marked the inauguration of the LDC Climate Resilience Prize, a generous non-dilutive cash prize of CHF 100,000. This initiative aligns with MassChallenge Switzerland's mission to drive climate responsibility in the entrepreneurial sphere.
The MassChallenge program, established in 2016 in Switzerland, has been a cornerstone in accelerating over 720 start-ups, aiding them in raising more than CHF 1.2 billion in funding and generating over 50,000 jobs. Its success stories, such as those of Impossible Materials and Perovskia Solar, mirror the potential and promise of Western Switzerland's entrepreneurship in contributing to a more sustainable and innovative global future.