Trust Valley cybersecurity start-ups win the Tech4Trust awards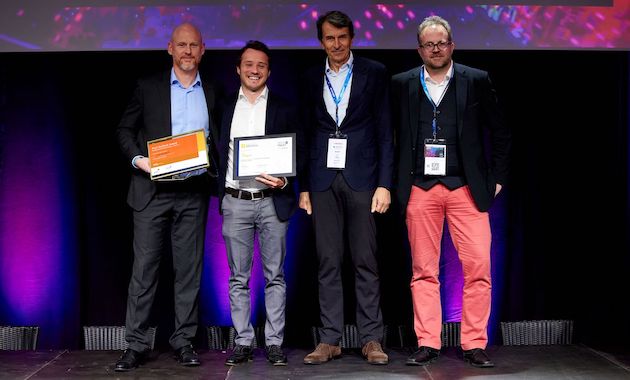 The Tech4Trust awards ceremony rewarded three cybersecurity and digital trust start-ups chosen among 12 finalists. The winners are Vaud-based Saporo, Tune Insight and PRODAFT.
On the occasion of the Swiss Cyber Security Days, the winners of the 2022 Tech4Trust Awards were revealed. Organized by the Trust Valley initiative, this ceremony distinguishes the best start-ups in cybersecurity and digital trust.
"We are proud to bring together strategic partners from the public, academic and corporate spheres to accelerate the resilience and security of digital systems through collaborative work, the promotion of talent and access to a fertile network of trusted investors," said Lennig Pedron, Executive Director of the Trust Valley. "Strong Network, which won 2nd prize in Season 2 in March 2021, has just raised 5.2 million, a record for a seed."
This year's winner, Lausanne-based Saporo, enables organizations to model and measure their resistance to anticipate attacks and make better-informed decisions about managing their risk without the need to think like an attacker.
Olivier Eyries, one of the three co-founders of Saporo, said: "Six months ago, we only had an idea and no fundraising, hardly any network. Six months later, we have raised 2.5 million, we have 7 clients in Switzerland and France, and 12 employees. Tech4Trust acts as a badge of trust that propels us and encourages investors to talk to us. We remain humbled and delighted with this result and will get right back to work. " 
The first digital trust and cybersecurity acceleration programme
The second prize of the Tech4Trust Awards went to Tune Insight. Based at the EPFL Innovation Park, this start-up develops secure computing solutions for sensitive and confidential data.
In third position came PRODAFT,  a company based at Y-Parc which offers proactive threat intelligence to its customers against the constantly evolving attack techniques in the cyber world.
Hestia was also recognized with Social Impact Award. This Geneva-based start-up builds sustainable personal data pipelines, respectful of the data contributors and responsive to changing circumstances.
Tech4Trust is the first digital trust and cybersecurity acceleration programme of its kind in the world. It helps the most promising companies prepare their business for commercialization through top-tier mentoring by key players of industry, strategic support and training from leading industry partners.