Unlimitrust: the campus dedicated to the Economy of Trust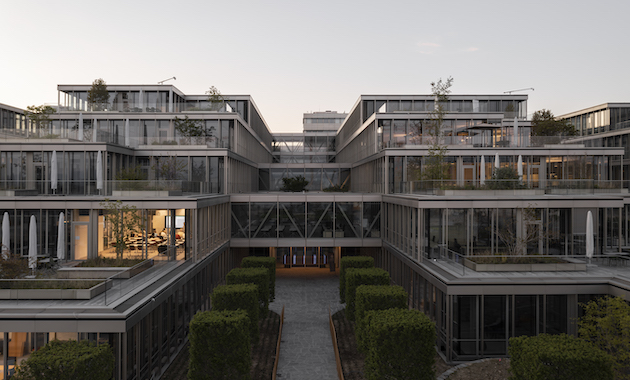 © Unlimitrust
In response to the growing challenges of cybersecurity, SICPA has created Unlimitrust, a campus dedicated to innovation in digital trust for a more secure and reliable digital future.
In response to the growing challenges of cybersecurity, SICPA has created Unlimitrust, a campus dedicated to innovation in digital trust for a more secure and reliable digital future.
In today's digital age, trust has become a precious but fragile resource. Whether it involves individuals, companies, technology or society as a whole, this essential value is constantly being put to the test. In response to this ongoing challenge, SICPA, a renowned Swiss pioneer in secure authentication, identification and traceability solutions, has created the Unlimitrust campus.
With an expertise built up over more than 90 years, SICPA has made a significant contribution to the security of banknotes, valuable products and official documents around the world, thanks in particular to its innovative security inks. Faced with the escalating risks and challenges of digital security, SICPA has taken the initiative to encourage and stimulate innovation in digital trust. The Unlimitrust campus reflects this vision, providing a fertile breeding ground for new ideas, experimentation and collaboration between young entrepreneurs, security experts and thought leaders.
The aim of the Unlimitrust campus is to create a dynamic innovation ecosystem that will fuel the construction of a safer, more reliable digital world.
The Economy of Trust: a fundamental principle
The Economy of Trust is at the heart of the Unlimitrust campus' mission. This new economy places trust at the center of interactions, and sees it as an essential element for a resilient and sustainable economy. transparency, knowledge sharing, shared consent, auditability, accountability and asset protection are the pillars of this economy.
The Unlimitrust campus is committed to working with innovative companies to create tools that generate and reinforce trust in the economy. It considers trust to be the backbone of business growth and well-functioning institutions. Moreover, the trust economy plays a crucial role in creating sustainable practices, thanks to transparency and traceability throughout the supply chain.
Innovation and collaboration in the service of the trust economy
Located in Prilly (canton of Vaud), the Unlimitrust campus is a hotbed for innovation in trust-related technologies. Created in the belief that individuals and organizations should never have to jeopardize their privacy, security or ethics, it aims to encourage collaboration, facilitate partnerships, educate and mobilize around trust.
The campus today brings together innovative companies, start-ups, investors, academics, institutions and other stakeholders to advance the trust economy. In this community, tenants benefit from private workspaces, ranging from 100 square meters to entire floors of over 1,000 square meters. All these facilities are designed to offer a modern, comfortable and secure working environment.
A stimulating environment for business development
Unlimitrust offers an environment conducive to business development and innovation. Occupants benefit from workspaces tailored to their needs, with fully equipped meeting rooms and workshops. The 100-seat auditorium is perfect for large events and conferences.
When it's time to relax or take a break, numerous dining options are available, from a café to a restaurant with an outdoor patio, as well as a 24-hour convenience store. Campus members also have access to co-working spaces, benefiting from all the site's amenities.
Trust Village: a start-up incubator
At the heart of the Unlimitrust campus and managed by Trust Valley, the Trust Village has been designed to support the region's emerging start-ups specializing in digital trust and cybersecurity. This platform offers the support new companies need to refine their ideas and develop their operations.
The Economy of Trust Foundation
The Economy of Trust Foundation, created by SICPA, is dedicated to building an international community of thought leaders and innovators. Through their services and technologies, these innovators support resilient and sustainable economies. The Foundation offers programs to stimulate and accelerate innovation in the application of trust-related technologies, and organizes events to connect people and encourage collaborations.
A digital trust microcosm
SICPA's Unlimitrust campus has positioned itself as a major catalyst for innovation in the field of digital trust. Bringing together a diversity of players ranging from young entrepreneurs to opinion leaders and cybersecurity experts, it constitutes a microcosm conducive to the emergence of innovative ideas. With its modern facilities and stimulating environment, Unlimitrust is actively helping to build a more secure and reliable digital future.
Learn more about the Unlimitrust campus – Learn more about the Trust Village – Learn more about the Economy of Trust Foundation