Lausanne's Biopôle life sciences campus expands further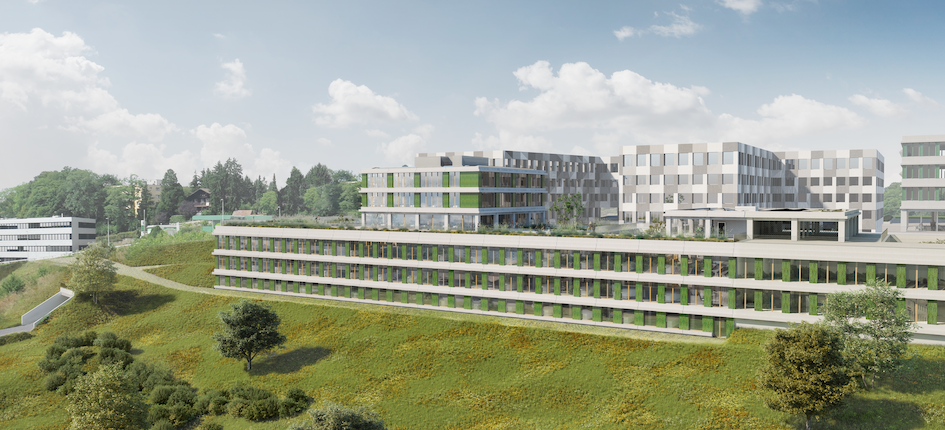 In response to the growing demand for laboratory, office and service space, the canton of Vaud's pension fund (CPEV) will finance and construct a new building dedicated to life sciences on the Biopôle campus. The CPEV and Biopôle have signed a contract whereby the pension fund will finance and carry out the construction of a […]
In response to the growing demand for laboratory, office and service space, the canton of Vaud's pension fund (CPEV) will finance and construct a new building dedicated to life sciences on the Biopôle campus.
The CPEV and Biopôle have signed a contract whereby the pension fund will finance and carry out the construction of a new building on the grounds of the Biopôle life sciences campus in Epalinges, in the heights of Lausanne.
Construction will begin in July 2020 and is scheduled to be completed in the first quarter of 2023. The new 9,900 square meter building will house in its main structure offices and laboratories of companies active in the field of life sciences. The new building will create around 150 additional jobs in addition to the 1,700 people currently working on the Biopôle site.
"Barely a year and a half after the inauguration of our last building, this new project is a testament to the dynamism and attractiveness of our ecosystem and will contribute to the growing competitiveness of our region in the field of life sciences. It strengthens the infrastructures, skills and networks that we are making available to a unique community," explains Nasri Nahas, CEO of Biopôle SA.
More than 70 companies
Started in 2004 by the public authorities of the canton of Vaud, Biopôle is a life sciences community bringing together industry and academia. It offers a combination of high-­quality infrastructure, value-added services and living spaces that are well suited to ensuring the prosperity of the businesses based there. With a surface area of over 8 hectares, the site houses more than 70 companies and institutions, including several head offices of multinational corporations, start­-ups and clinical development teams, together with technology and service providers. It also hosts 25 world-famous research groups, in particular the Lausanne University Hospital (CHUV), the University of Lausanne (UNIL) and the Ludwig Institute for Cancer Research.