3D printing and manufacturing in Western Switzerland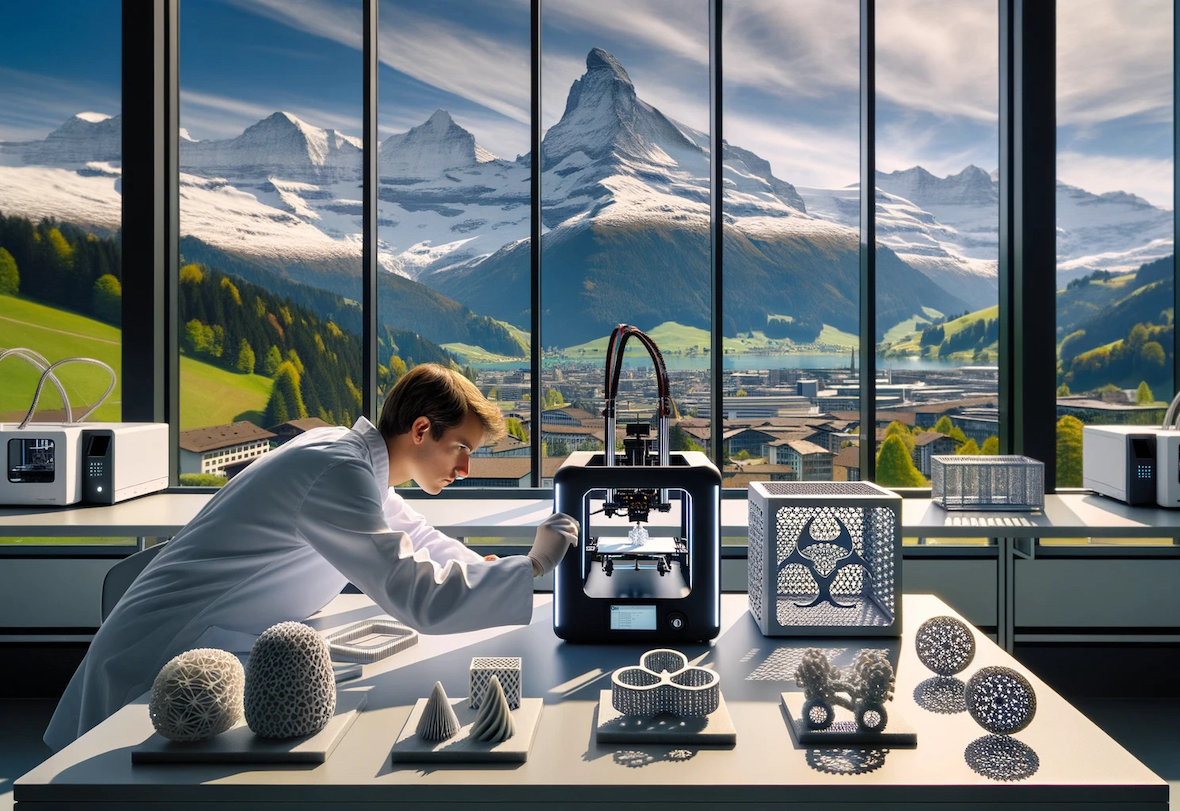 Western Switzerland's commitment to 3D printing and manufacturing is multi-faceted, bridging research, industry, and academia.
Western Switzerland's 3D printing prowess leaps forward with impressive patent numbers. How does the region stand out in the global arena?
Western Switzerland's prominence in the 3D printing landscape is further underscored by the recent data. Holding the 8th position globally and 4th in Europe in terms of 3D printing-related patents, Switzerland showcases its dedication to innovation in this space. Between 2001 and 2020, Swiss companies and universities filed approximately 8% of the patent applications related to 3D printing technologies in Europe, with a notable emphasis on the medical sector. As the global race intensifies, Switzerland is keen on ensuring its place at the forefront of 3D printing advancements.
Western Switzerland is emerging as a hub of innovation in the realm of 3D printing. With pioneering research, groundbreaking products, and a thriving ecosystem of academic institutions and businesses, the region stands out as a frontrunner in embracing the fourth industrial revolution.
For example, the École Polytechnique Fédérale de Lausanne (EPFL) and the Swiss Center for Electronics and Microtechnology (CSEM) have created a joint venture in Neuchâtel, the Micromanufacturing Science & Engineering Center (M2C), which focuses on high-precision 3D manufacturing processes.
When it comes to applications, the potentials of 3D printing in Western Switzerland are vast and diverse. From M2C's exploration of 3D manufacturing methods to the development of technologies that can embed sensors directly into 3D-printed components, the practical implications are boundless. These innovative approaches find relevance in fields ranging from the space industry to custom medical prostheses, watchmaking parts, and micro-fluidic devices.
The M2C covers the full spectrum of development, from fundamental research by EPFL labs to the transfer of sustainable, economically impactful technologies to industries. This collaboration between academic, institutional, and industrial partners symbolizes the region's commitment to staying ahead of global competition in the field of 3D manufacturing.
Such advances resonate with the broader theme of Industry 4.0, which Switzerland is keenly embracing. As a digital revolution applied to industry, the integration of technologies like Big Data, AI, 3D printers, and IoT is shaping the future of manufacturing. In Biel (canton of Bern), the Swiss Smart Factory (SSF) stands as a testament to this endeavor, offering a platform for mutual exchange of knowledge and fostering new business relationships.
A landmark achievement in the region's 3D printing realm is the recent PET-like plastic developed by EPFL scientists. Created directly from waste biomass, this invention underlines the perfect marriage between sustainability and technological innovation. This biomass-derived plastic not only meets the criteria for replacing many current plastics but is also environmentally friendly. Such innovations could redefine industries, offering applications in diverse fields like food packaging, textiles, electronics, and even 3D printing filaments.
SWISSto12, a Vaud-based firm, has pioneered 3D-printed satellite payloads and systems. Using proprietary 3D printing techniques, they've crafted state-of-the-art satellite systems and RF products that have reshaped the aerospace sector, receiving substantial funding to fuel their aerospace ambitions further.
Another pillar bolstering the region's printing ecosystem is the iPrint Institute in Marly (canton of Fribourg). Renowned for its cutting-edge research and commitment to innovation, iPrint has been instrumental in training and nurturing the next generation of printing professionals. Their work, coupled with collaborations and knowledge exchange, plays a pivotal role in driving Western Switzerland's aspirations in various printing technologies.
Western Switzerland's commitment to 3D printing and manufacturing is multi-faceted, bridging research, industry, and academia. Through strategic collaborations, pioneering research, and a keen sense of global competition, the region is poised to remain at the forefront of the 3D printing and manufacturing technologies, helping to shape the future of industries and offering promising prospects for economic growth.