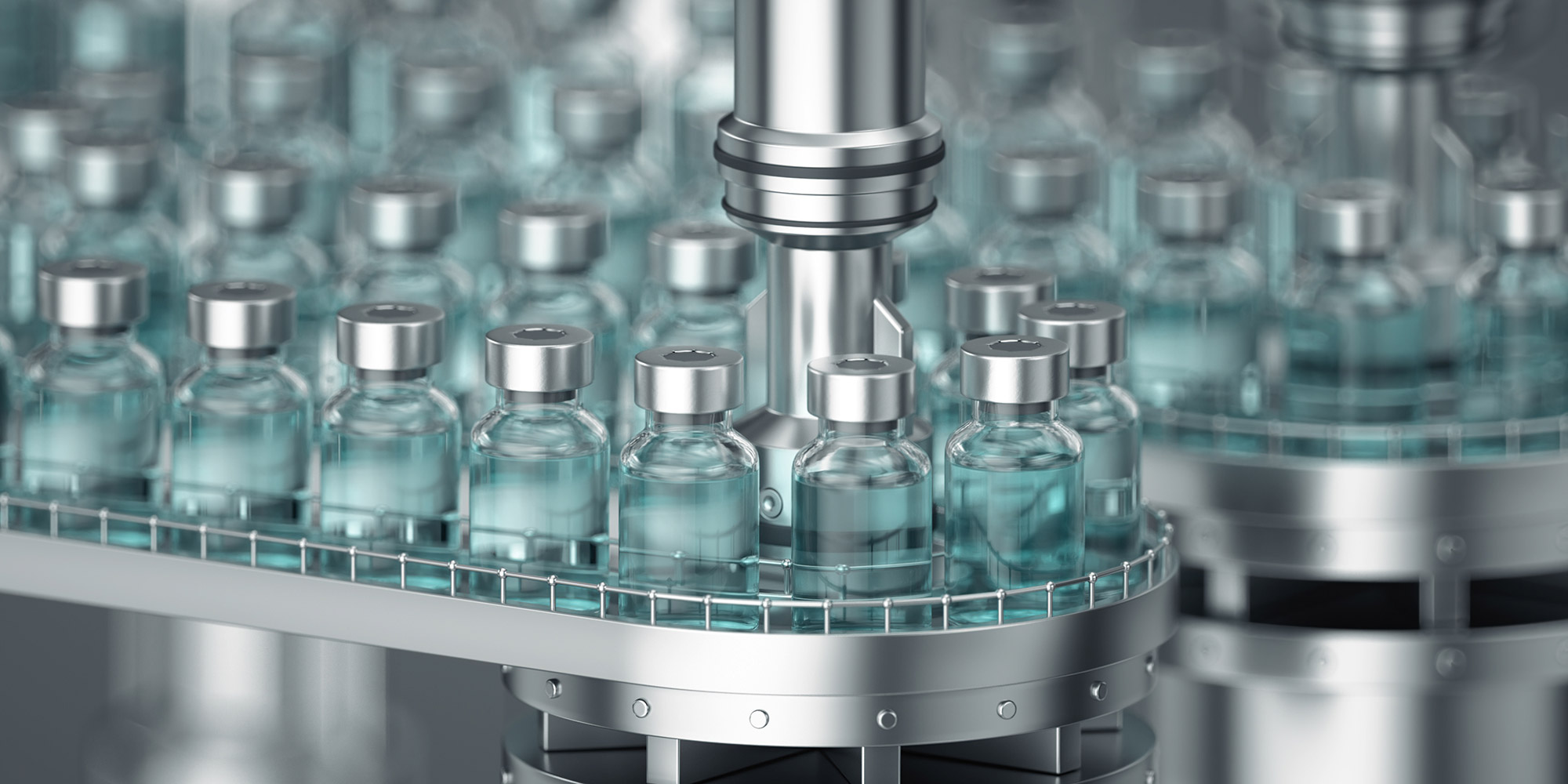 Why Switzerland for your next biomanufacturing facility
Global demand for biologics is at an all-time high. According to a CPhI report, by 2025 Europe will overtake North America as the top location for biologics manufacturing.
With its robust pharma heritage, ample availability of highly skilled workers, and a well-earned reputation for industrial quality and reliability, Western Switzerland is poised as a leader in the field, helping to meet the demand for innovative therapies and medicines to treat cancer, coronaviruses, genetic diseases, cardiovascular, pulmonary, endocrine, immunological, and neurodegenerative disorders, among others.
10 key advantages of the region
01

Switzerland, a Pharma & Biotech powerhouse

Boasting a workforce of around 47,000, the pharmaceutical industry is a central pillar of the Swiss economy, responsible for more than one third of Swiss economic growth over the past 10 years. This strong performance is largely due to its phenomenal productivity: for every job, the value added is five times as high as the average for the overall economy. Even in international comparison, the Swiss pharmaceutical industry outperforms other countries in terms of productivity. The decisive factor behind this is the high level of research and innovation in the country. According to Interpharma, companies in Switzerland's pharmaceutical sector invest more than 7 billion Swiss francs every year in the research and development of new medicines and therapies.
02

The Health Valley region: A vibrant life sciences community

Western Switzerland's life sciences hub – the so-called Health Valley – is one of the most advanced and diversified life sciences hotspots in the world. In 2021, it was ranked as the 2nd leading life sciences cluster in Europe, and the 12th worldwide, by Startup Genome. The Health Valley comprises more than 3,000 life sciences companies: from cutting-edge startups spun off from local universities to Swiss unicorns like ADC Therapeutics, MindMaze, and Sophia Genetics, to large multinationals such as CSL Behring, Lonza, Incyte and UCB.
03

A location of choice for collaborative and translational R&D

Sartups and multinationals based in the Health Valley are supported by world-class research institutions, including the Swiss Federal Institute of Technology Lausanne (EPFL), ranked as the 3rd most international university in the world; the Universities of Bern (UNIBE), Fribourg (UNIFR), Geneva (UNIGE), Lausanne (UNIL), and Neuchâtel (UNINE); the Bern University of Applied Sciences (BFH), the University of Applied Sciences and Arts Western Switzerland (HES-SO) and CSEM research and technology organization. The region is also home to three university hospitals: Inselspital, HUG and CHUV, ranked as the 11th best hospital worldwide. Innosuisse, the Swiss national agency funding R&D supports collaborative projects of some of the 500 public and private life sciences labs.
04

Efficient education fostering talent development

The deep talent pool available in Western Switzerland is the result of the region's unparalleled quality of life, which is a magnet for foreign skilled workers, combined with an efficient educational system geared towards market needs. The education ecosystem in place in Western Switzerland covers all the needs for talent at every step of the bioproduction process. Three types of organizations are available across the region: research universities, technical universities – which supply of approximately 17,000 science, technology, engineering, and mathematics (STEM) undergraduate and graduates – and specialized training schools for laboratory (including biomanufacturing) workers. As an example, specific training initiatives designed to boost capabilities in biomanufacturing have been launched by the Biofactory Competence Center (BCC) in Fribourg, the Bertarelli Foundation Gene Therapy Platform in collaboration with the Swiss Federal Institute of Technology Lausanne (EPFL) at the Campus Biotech in Geneva , and the Intercantonal Professional School of Chemistry (EPIC) in Visp and Monthey and the Neuchatel Professional Training Center (CPNE) which trains hundreds of apprentices.
05

Top Pharma, Biotech and CDMO companies producing in the region

Western Switzerland is home to major contract development and manufacturing organizations (CDMOs) from Asia, North America, and Europe, as well as to local players active in the discovery, development and production of biologics. These include CordenPharma, ExcellGene, Merck, OM Pharma with its Geneva Biotech Center, Selexis, KBI Biopharma, ThermoFischer Scientific, DebioPharm, Lonza, WuXi STA and Swiss Biotech Center, just to name a few. They cater to the needs of large pharma groups and collaborate with smaller, highly innovative biotech companies, supporting them with the development of cell lines, industrialization processes and production.

Major pharmaceutical and high-growth biotech companies such as Kodiak, Incyte, CSL Behring, and Sanofi have recently started a new production facility or invested in extending their production capabilities to produce innovative biotechnology products. These sites were in direct competition with other manufacturing locations worldwide and all chose Western Switzerland as a strategic location.
06

A dense network of suppliers and service providers

Companies based in Western Switzerland have easy access to a wealth of reliable suppliers and service providers across the entire biomanufacturing value chain, enabling efficient production and secure exports. Contract Research Organizations (CROs) such as Labcorp (Covance), Aardex, and CELLnTec provide a full range of services from pre-clinical research to large-scale international clinical trials. Fill-finish specialists include ten23 health, Baccinex, and Seyonic. Among the logistics and packaging experts are NV Logistics, Medistri, and Galenica. Lastly, the proximity of air freight operators with warehouses certified for pharmaceutical logistics by IATA's CEIV Pharma ensures secure exports.

The region also hosts intellectual property, regulatory affairs, merger and acquisition, legal, financial, and other experts and consultants, spanning all disciplines and technologies. A comprehensive list of suppliers and specialized service providers is available upon request.
07

A hub for vaccine production

Did you know that Western Switzerland boasts 130 years of vaccine technology know-how? Founded in 1898 in Bern, at a time where few vaccines or immunoglobulins were available, the Swiss Serum and Vaccine Institute has played a key role in the evolution of the field by introducing novel technology leading to safer and more efficacious vaccines. The company is now part of Janssen, the pharmaceutical company of Johnson & Johnson. Additional companies involved in vaccine research and production include Emergent BioSolutions, Amal Therapeutics, and MaxiVax. In 2020, Moderna tapped Lonza's Visp site to produce its covid-19 vaccine and signed a 10-year strategic collaboration agreement to enable the production of additional Moderna products in the future.
08

Ample availability of greenfield and brownfield sites

Companies considering investing in their own manufacturing facilities can be sure to find the best fit for their needs in Western Switzerland. A diverse range of greenfield and brownfield sites – including ready-built facilities following GMP standards – are available in the region, from a few hundred square meters up to 200,000. Some of these already benefit from all the permits and authorizations required for biomanufacturing.
09

Open economy with unparalleled free-trade agreements

Switzerland enjoys free trade agreements with the EU/EFTA and 43 other partners including China, Japan, and Korea providing unimpeded access to the most important pharmaceutical markets. Around 200 million euros are saved annually for pharmaceutical and chemical exports to Germany, France, Austria and the United Kingdom alone. The mutual recognition of conformity and quality control also leads to significant cost savings when trading with the EU, the EEA, the EFTA states and Canada. Good framework conditions promote sales and ensure that cross-border value chains can be organized efficiently.
10

Proactive, supportive authorities

Direct financial incentives are available to support specific business projects for companies operating in industry, production-related services, and leading-edge technologies. Companies engaged in biomanufacturing activities can qualify for financial incentives and tax relief based on the added value of production, capital investment, and job creation. Under certain conditions, newly created companies can benefit from an exemption from cantonal and municipal taxes on profits and capital for a limited period of 10 years. We also offer the opportunity to access a single point of contact that will help expedite the permitting process for the construction and fit-out of your new facility.
Testimonials
We wanted to set up operations in Europe, and Switzerland, with its tradition of pharmaceutical production, emerged as the obvious choice.
Success stories
Incyte chooses Switzerland for its first biomanufacturing site
After establishing its European headquarters in Western Switzerland in 2016, US biopharmaceutical group Incyte strengthened its presence in the region in 2021 with the inauguration of its first production site in Yverdon-les-Bains. Located at Y-Parc technology park, the new plant consists of a 13,300 square meter campus composed of three buildings housing production, technical operations and analytical laboratories.
CSL Behring opens new manufacturing facility in Bern
In 2021, CSL Behring inaugurated two additional production lines at its Bern site in order to meet the high demand for its immunoglobulin products. The extension, which represents an investment of CHF 300 million, is a multi-story building with three basement levels. It includes immunoglobulin bulk manufacturing and space for a future sterile filling line, as well as utility and logistics rooms.
Selexis, from university spin-off to global biologics CDMO
A spin-off of the University of Lausanne, Selexis was incubated at FONGIT in Geneva and went on to become a global leader in cell line development and gene technology. The company, now part of JSR Life Sciences, is expanding its biologics manufacturing capabilities in Geneva together with its sister company KBI Pharma.
Cytiva Center of Excellence for cell and gene therapies
Powered by 100% renewable energy, Cytiva's new 80,000 square feet manufacturing facility opened its doors in Grens (canton of Vaud) at the end of May 2022.
The site manufactures single-use kits for the Sepax and Sefia cell processing systems, as well as consumables for Xuri cell expansion systems. It also serves as a Center of Excellence for Cytiva's Cell and Gene Therapy business and is a base for European customer training programs.
The building is powered by 100% renewable electricity and has roof-mounted solar panels. It also has five distinct HVAC systems that optimize environmental conditions in each functional area.
Merck sees Switzerland as a key part of its success story
Merck has been in Switzerland for almost a century, and has invested more than $1 billion in the country over the past ten years. In Western Switzerland, the German drugmaker has two major projects currently underway: a new building at its biotech manufacturing site in Aubonne, and a state-of-the-art biotech development facility located near its commercial manufacturing site in Corsier-sur-Vevey. The latter – a 15,700-square-meter facility bringing together a cross-functional team of approximately 250 employees spread across different sites today – will be Merck's global centre of expertise for biotech development and manufacturing for clinical studies.
Lonza's continuous growth in Switzerland
In 2017, Lonza started developing the Ibex™ biomanufacturing complex at its Visp site. Built on a brownfield surface of 100,000 square meters – the equivalent of 10 football pitches – Ibex™ offers modular solutions to biopharma customers at every stage of development and manufacture. These include Servier, Kodiak, Sanofi, and most notably Moderna, with six production lines installed in record time and dedicated to manufacturing the drug substance for its Spikevax covid-19 vaccine.
GGBa has a global network of representatives who will support and guide you to ensure the success of your establishment in Switzerland. Our services are tailor-made, free and confidential.