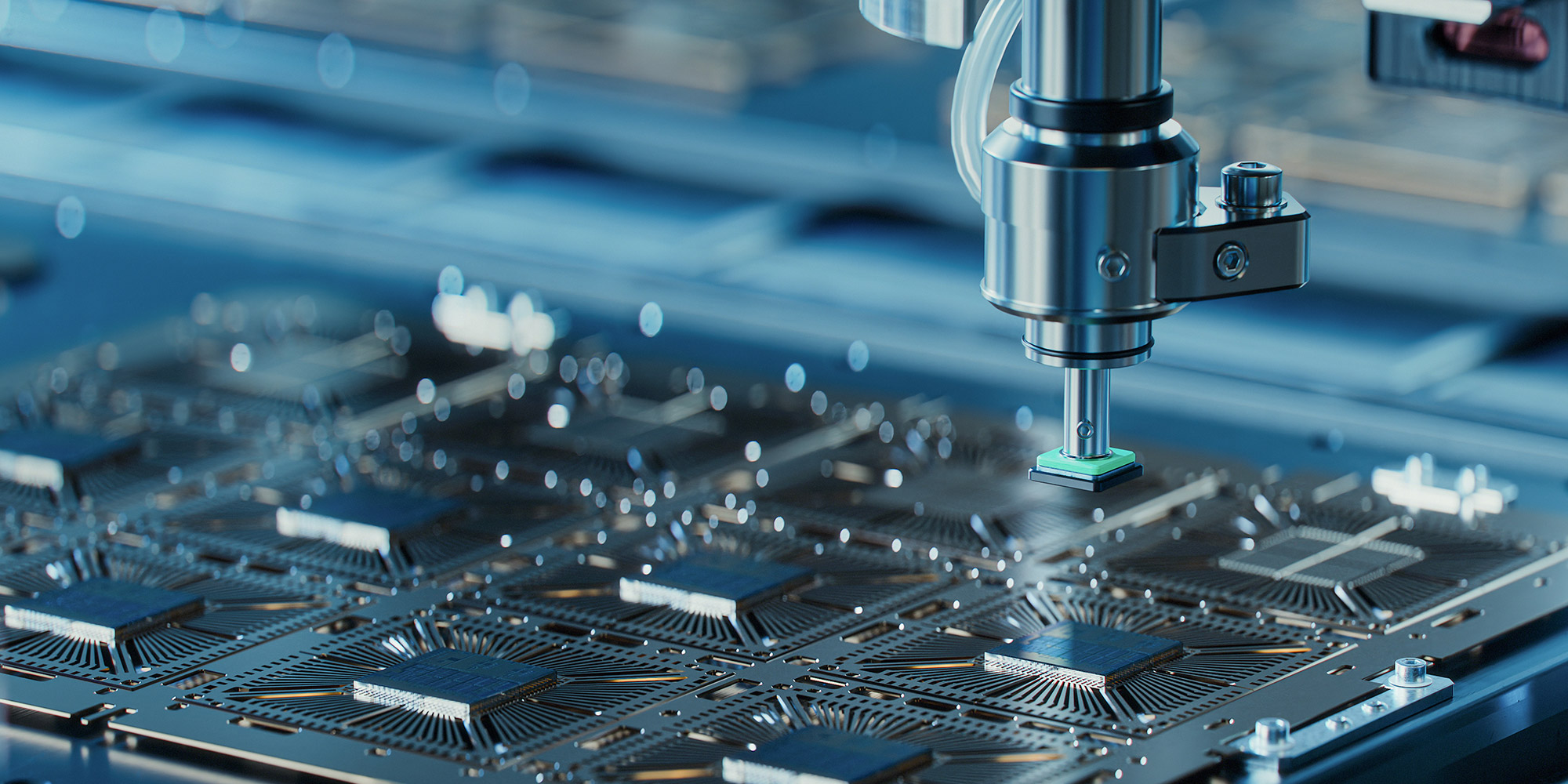 Why Switzerland for micro and nanotechnology
A long tradition of precision
Switzerland's expertise in micro and nanotechnologies has been historically acknowledged in the watchmaking and high-precision sectors. Today, Switzerland continues to tackle tomorrow's challenges by leveraging its technological expertise, renowned research institutes, and skilled workforce.
10 key advantages of the region
01

A dense ecosystem

Switzerland's micro and nanotechnology ecosystem has flourished, fueled by a strong culture of innovation and precision deeply rooted in its watchmaking tradition. This dense ecosystem owes its success to Switzerland's technological expertise and is comprised of numerous companies operating in microtechnology, microelectromechanical systems, and nanotechnology. The mechanical and electrical engineering (MEM) industry generates approximately half of Switzerland's industrial value-added, equivalent to over 7% of its GDP and employs 318,900 individuals. This figure continues to grow, further highlighting the industry's appeal as an attractive employer with promising career prospects.

Switzerland has consistently held the top position in the Global Innovation Index published by the World Intellectual Property Organization (WIPO) for the past 12 years. The country's investment in research and development, which accounts for 3% of its GDP, has played a significant role in this achievement. This innovation culture strongly encouraged by the government leads to a large amount of research and innovation in future technologies such as micro and nanotechnology. Companies such as ABB, The Swatch Group Research and Development, Power Integrations or Comet focus on R&D in this field and adapt their research to the needs of the industry.
02

A long-standing watchmaking tradition

Western Switzerland plays an important role in the micro and nanotechnology industry. The watchmaking industry started in the middle of the 16th century in Geneva and developed in the Neuchâtel mountains and the Vallée de Joux in the 17th century. The inhabitants of the region used to graze their cattle in summer and repair their agricultural tools during winter. Thanks to their ingenuity, they quickly learned to repair and then manufacture timepieces. This technical expertise and precision needed to manufacture watch movements and very small components also apply to the micro and nanotechnologies developed later. In Western Switzerland alone, nearly 1,000 companies, laboratories and support organizations are listed in the directory of key players in micro-precision.

Today, the region is a world reference in these sectors and hosts international companies such as Melexis Technologies with its semiconductor microelectronics solutions, Etel and its direct drive technologies or Semtech in the supply of semiconductors.
03

Cutting-edge research institutes

International companies active in micro and nanotechnologies and precision engineering choose Western Switzerland for the synergy opportunities with renowned academic and research structures offering the most modern resources.

Microcity in Neuchâtel, a center of excellence and innovation in the field of micro and nanotechnologies, microfabrication and the process of industrialization, combines all the competencies related to the infinitely precise, from the concept phase to the production and commercialization of the product. It is located close to the Swiss Center for Electronics and Microtechnology (CSEM) whose mission is to develop microtechnologies and to transfer that know-how to industry. The Adolphe Merkle Institute (AMI) at the University of Fribourg is a research center dedicated to materials science and nanosciences. It has its own technology transfer office as well as an applied sciences laboratory for companies. The Parc Technologique de Saint-Imier (PTSI) in the Bernese Jura welcomes institutes, start-ups and companies working in the micro technologies and precision engineering. The Micronarc platform, the Swiss industry umbrella organization Swissmem and the Groupement suisse de l'Industrie des Machines (GIM-CH) are the leading organizations in this field.

The region can also count on specialists in the space, such as the Institute of Electrical and Microengineering (IEM) and the Center of MicroNanoTechnology (CMI) of the EPFL, the Fribourg Center for Nanomaterials (FriMat), the Institute for Industrial Science and Technologies (InSTI), or the Technopôle de Sainte-Croix, a center of competence in micro-welding and related techniques.
04

Training in the various trades of the industry

Among the best universities in the world in the field of engineering and technology, the Swiss Federal Institute of Technology (EPFL) offers a Bachelor's and Master's degree in microtechnology. Recognized for their practical orientation, Swiss universities of applied sciences, such as the University of Applied Sciences and Arts of Western Switzerland (HES-SO), the School of Engineering and Management (HEIG-VD) or the Geneva School of Landscape, Engineering and Architecture (HEPIA), which is attached to the HES-SO, are also very active in the training of engineers in microtechnology. The Swiss Foundation for Microtechnology Research (FSRM) also offers training courses in this field.
05

Top companies producing in the region

Western Switzerland is home to important companies active in the field of micro and nanotechnology and precision engineering. International companies such as Marvell, a semiconductor manufacturer, Festo Microtechnology in the automation sector or Safran Sensing Technologies Switzerland in the MEM sector have established themselves here because of the many advantages the region offers.

Western Switzerland also has a sophisticated local market with quality and renowned companies such as Bobst, Matisa, EM-Microelectronic or smaller structures such as Nanolive which provides revolutionary medical and biological imaging and analysis solutions and which started its history at the EPFL. New companies move to the region every year, drawn by its deep talent pool and excellent business conditions.
06

A dense network of suppliers and service providers

Companies based in Western Switzerland enjoy access to a diverse range of reliable suppliers and service providers along the value chain. Moreover, the region boasts a strong international network and offers direct access to Europe, enabling companies to fulfill the growing demand for producing goods in close proximity to their customers.

The region can count on suppliers such as ST Microelectronics for electronic chips used in large industrial machines, smartphones or hard drives, Rehau, supplier of polymer solutions for the automotive industry, or Union-Tool or DIXI Polytool, producers and distributors of high-quality industrial cutting tools and machining equipment. Western Switzerland also hosts a range of partners providing diverse services in the field, including research and development with companies like Debiotech, specializing in micro-mechanics and micro-electro-mechanics for medical applications, or analysis and consulting services such as those offered by Attolight, specialist in measurement and analysis tools based on quantitative cathodoluminescence. The Greater Geneva Bern area also has experts and consultants in intellectual property, like P&TS, who help companies protect their inventions. Companies can also count on support organizations such as The Ark Foundation which supports, among others, companies active in micro and nanotechnologies, such as Novochizol or the Factory5 platform.
07

Ample variety of land and commercial properties

Western Switzerland is an ideal destination for companies planning to invest in their production facilities, as the region offers customized solutions tailored to their specific needs. Regardless of the scale of the project, the region has a diverse range of land and properties, from simple premises to large-scale infrastructure. All information on commercial property can be found here.

There are also many technology parks, often specialized in a particular field of activity, such as the Technopôle de Sainte-Croix or the Parc Technologique de Saint-Imier (PTSI). Designed to foster synergies between innovative companies, they pool premises and infrastructures to host start-ups. These technology parks can therefore be an excellent opportunity for start-ups wishing to establish themselves in Switzerland. Microcity also offers accommodation sites adapted to start-ups, SMEs and large innovative companies in the field of micro and nanotechnologies.
08

A qualified workforce

Switzerland's rich watchmaking heritage and effective training system have resulted in a specialized workforce with expertise in technical fields related to micro and nanotechnology. It offers companies the opportunity to create "Swiss-made" products, a label that embodies quality, reliability, technological innovation and precision. The country's reputation for high-added value products makes it an attractive destination for businesses. In addition, the Swiss Confederation's exceptional quality of life attracts the best talents from around the globe, and its multilingualism facilitates international business development.
09

A wide range of applications

Micro- and nanotechnologies are widely used in various fields, including medical technologies, electronics, and materials science, due to their unique properties. These nanoscale materials are being utilized to create new technologies and applications that can enhance our lives and provide solutions to some of the world's most pressing challenges.
Western Switzerland has a rich history of innovation, with notable inventions such as the first quartz wristwatch (Beta 1 and Beta 2) developed by the Centre Electronique Horloger (predecessor of CSEM) in 1967. This watch was more accurate than traditional mechanical chronographs. The region continues to produce cutting-edge inventions, such as CSEM's thin, broad-wavelength-image sensor that can detect damage when directly incorporated into an aircraft's composite structure, and CompPair's self-repairing composite material, a spin-off of EPFL. Additionally, Western Switzerland has seen the development of novel products such as the Iris Smart Ring, the first Swiss connected ring by Senbiosys, and AlveoliX's "organ-on-a-chip," which replicates the functioning of a human lung on a reduced scale.
10

New business opportunities

Western Switzerland hosts prominent events dedicated to micro and nanotechnologies and precision engineering, which provides the opportunity to strengthen business relationships in a convivial and international setting. A few examples of these events include the Salon International – Leader de la Haute Précision Horlogère, Microtechnologieset Medtech (EPHJ), the Trade Fair for Microtechnology Production (SIAMS) which attracts exhibitors from all over Europe, as well as mAm – The Microproducts Annual Meeting, an international conference on microfabrication renowned for the quality of its program and networking. Other events in the field take place like the NanoBioTech-Montreux Conference, INNOTEQ, Technical Watchmaker Show or Technopolis.
GGBa has a global network of representatives who will support and guide you to ensure the success of your establishment in Switzerland. Our services are tailor-made, free and confidential.